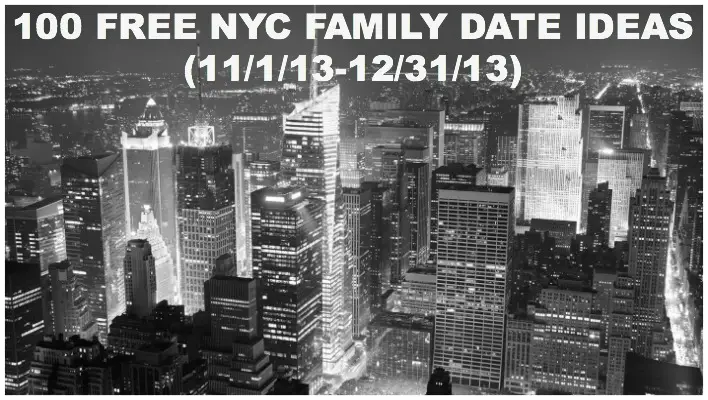 A couple of weeks ago, my minister asked me to come up with 100 free date ideas. Since there are so many free things to do in NYC, I thought that it would be easy to find such a list. I was wrong! As such, I thought that you would find this list handy too. Below are 100 FREE options that you can do with family and friends through the end of 2013.
FYI: It would be too many outgoing links for me to include in this one post, so I will have a special pdf version WITH the links in the November Mom in the City Newsletter that will be going out next week. (If you're not already a subscriber, be sure to sign up for the free newsletter. You will get email updates of the site's best content as well as "subscriber-only" special offers, giveaways and such!)
1. If you have bikes, The Bicycle Network Development site provides information regarding bikeways and greenways throughout the City of New York. From their site, you can view and download New York City Cycling Maps.
2. Take a visit to your local library. Most of them host special events and provide calendars that you can use to help plan.
3. Admission to the Bronx Zoo/Wildlife Conservation Park is free/"suggested admission" on Wednesdays.
4. Brooklyn Botanic Garden has free admission all day on Tuesdays; from 10 AM to 12 PM on Saturdays and Winter Weekdays (November–February) are also free.
5. The New York Botanical Garden has free admission all day on Wednesdays and from 9 AM to 10 AM on Saturdays.
6. Queens Botanical Garden has free hours on Wednesdays from 3PM to 6PM and Sundays from 4PM to 6PM
7. Take a (1.3 mile) walk across the Brooklyn Bridge
8. Release your inner child and go to FAO Schwarz Fifth Avenue. (You know that you want to dance on the big piano…)
9. If you have a Friday off, the Grand Central Partnership offers a free, weekly, walking tour of the Grand Central neighborhood Fridays.
10. Be a tourist in your own city by taking a tour of popular areas. You can get inspiration from various tour company offerings. NYC By Foot also offers a variety of free/name-your-own-price walking tours.
11. There are 15 Urban Park Ranger Nature Centers that offers a calendar of free activities including walking tours and workshops.
12. View the beauty of fall by viewing the fall foliage in the Parks.
13. Take a hike (in the good, walk a trail sense)!
14. Put on your gym shoes and go for a run along Central Park or on one of NYC's running tracks.
15. Break a sweat together. Shape Up NYC offers free weekly fitness classes.
16. NYC is home to many historic houses. Visit the Historic House Trust for a listing of their primarily free events.
17. NYC offers a variety of outdoor public art sculptures sprinkled throughout its Parks. Visit some of them.
18. If you like birds, go bird watching or participate in a free birding event.
19. Bank of America Winter Village at Bryant Park is free (as is admission to the rink, but you have to pay for skate rentals).
20. Make a date to volunteer together. New York Cares and God's Love We Deliver are two great charities that constantly need help.
21. Take a visit to your local bookstore. Most of them have a calendar of special events that is free to the public.
22. Release your inner child and go to Toys R Us Times Square. Practically everyone wants to be a "Toys R Us" kid deep inside.
23. Have an in-home movie night and invite another family.
24. Board Game nights are a great way to see another side of the characters of your family members.
25. It is great just to walk along the High Line, but also check out their calendar of events, which includes freebies like "Stargazing on the High Line".
26. Macy's Thanksgiving Day Parade (and balloon inflation!) is an annual favorite.
27. The World Financial Center hosts a variety of free art and events.
28. Tour the United Nations. There is free walk-in public access on Saturdays and Sundays.
29. Sony Wonder Technology Lab (in Sony Plaza) is not just for kids. In addition to their interactive exhibits, they also offer free screenings of feature films.
30. It's okay for adults to play with Legos too. A visit to the Lego Store Rockefeller Center will give you plenty of opportunity to do just that! (There is also one in Queens.)
31. Carnegie Hall is offering a free Neighborhood Concert series this fall.
32. Does your family love "all things Apple"? If so, then sign up for one of Apple's FREE hour-long in-store workshops together.
33. If you are a family of "gamers", then a family date to the Nintendo World store will be a blast. Plan ahead by checking their website for upcoming events.
34. Entrance to Queens County Farm Museum, a historic working farm, is free. So are many of their events.
35. Time Warner Center's "Holiday Under the Stars" is a wonderful holiday lights display that you can go and see beginning November 13th.
36. Madison Square Park offers free art and music events year-round. (Also, don't miss the Madison Square Park Tree lighting.)
37. The Public Art Fund sponsors a variety of wonderful art projects – many which are free to the public. The Lightness of Being in City Hall Park is a current standout.
38. Central Park offers a variety of free tours and recreational activities. See their current calendar.
39. Architecture fans, visit The Center for Architecture. Entrance to the galleries is free.
40. There are a variety of art galleries sprinkled throughout the city that you can visit for free. The Art Quilt Gallery is one great option.
41. Socrates Sculpture Park in Long Island City is an outdoor art museum/public park. It is open for free year-round from 10AM until sunset.
42. Visit the New York Transit Museum's Holiday Train Show for free in the Grand Central Terminal.
43. Join the 2013 Annual Park Avenue Tree Lighting Ceremony on Sunday, December 8th.
44. Attend a TV show taping together.
45. Visit the Strawberry Fields/Imagine Mosaic and imagine…
46. Go to the top of Belvedere Castle in Central Park to see beautiful views of the park and the city.
47. Brooklyn Academy of Music (BAM) offers free live music on select Friday and Saturday nights.
48. For fashion lovers, visit the free RetroSpective exhibit at The Museum at FIT.
49. Take a ride on the Staten Island Ferry.
50. Act like you are tourists and visit the Times Square Area again as if it were the first time. (Take a seat in one of the chairs in the
"pedestrian-only" zones – it is perfect for people watching.

FIND PART II at 100 FREE NYC Family Date Ideas (Part II)