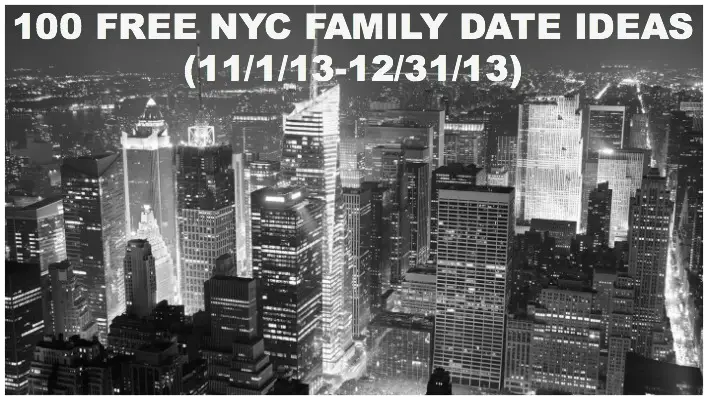 A couple of weeks ago, my minister asked me to come up with 100 free date ideas. Since there are so many free things to do in NYC, I thought that it would be easy to find such a list. I was wrong! As such, I thought that you would find this list handy too. Below are 100 FREE options that you can do with family and friends through the end of 2013.
FYI: It would be too many outgoing links for me to include in this one post, so I will have a special pdf version WITH the links in the November Mom in the City Newsletter that will be going out next week. (If you're not already a subscriber, be sure to sign up for the free newsletter. You will get email updates of the site's best content as well as "subscriber-only" special offers, giveaways and such!)

FIND PART I at 100 FREE NYC Family Date Ideas (November & December 2013)

51. Watch the Rockefeller Center Tree Lighting (12/4) or simply visit the tree (until 1/7/14).
52. Take a look at the various holiday window displays (Barneys New York, Bergdorf Goodman, Bloomingdales, Lord & Taylor, Macy's and Saks
Fifth Avenue have consistently great displays.)
53. If you are an especially patriotic duo, go to AMERICA'S PARADE (in the tradition of the New York City Veterans Day Parade) to honor those who have defended our freedoms.
54. Don't miss the free Winter's Eve celebration at Lincoln Square on 12/2.
55. Julliard offers several free events (dance, drama & music).
56. View art exhibits at Rockefeller Center.
57. The Japan Society offers free admission on Friday nights from 6PM to 9PM.
58. For African history lovers, a visit to the African Burial Ground National Monument offers free stories and activities to participate in.
59. The Hispanic Society of America Museum & Library is a free museum and reference library for the study of Hispanic arts and culture.
60. The Union Square Partnerships offers a variety of free events in the Union Square area…including walking tours.
61. Visit Riverside Gallery – Art in the Park, an open-air gallery with 7 sculptures in Riverside Park.
62. Reserve your free passes to visit the National September 11th Memorial and Museum.
63. You don't have to be runners to cheer on the competitors in the ING New York City Marathon on November 3rd.
64. Prospect Park offers a variety of free events year-round.
65. There are free public performances on Thursday nights at 7:30 PM at the David Rubenstein Atrium at Lincoln Center.
66. Don't miss the lighting of the World's Largest Hanukkah Menorah at Brooklyn's Grand Army Plaza Rockefeller Center.
67. If you can handle the crowds, New Year's Eve at Times Square makes a special memory.
68-100. You can find FREE admission information for 33 additional NYC museums at https://www.mominthecity.com/wp//33-free-or-pay-what-you-wish-museums-for-nyc-families/