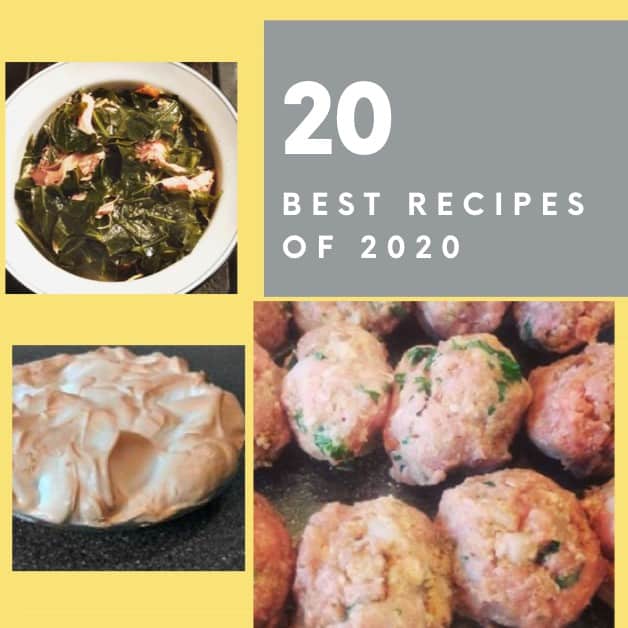 From main dishes to desserts, here are Mom in the City's 20 Best Recipes of 2020 – according to popularity with readers.
Best Recipes of 2020
20. Southern Collard Greens with Smoked Turkey Wings Recipe

19. Simple Recipe for Red Velvet Waffles

18. Fresh Black-Eyed Peas in a Slow Cooker

17. Quick and easy mashed potatoes recipe

16. Crab Stuffed Shrimp Recipe

15. Lidia Bastianich's Panna Cotta with Berries Recipe

14. Easy Oven Baked Barbecue Teriyaki Ribs Recipe

13. Baked Macaroni and Cheese Recipe

12. Healthy Chicken and Sweet Potato Curry

11. Glazed Ham in the Oven (Aunt Beulah's Ham)

10. Best Vegan German Chocolate Cake

9. Easy Grilled Ham Steak with Brown Sugar Glaze Recipe

8. Easy Shepherd's Pie Recipe

7. Lemon Meringue Pie Recipe Promise

6. Easy Jamaican Curried Chicken

5. Strawberry Smoothie Without Yogurt

4. Lidia Bastianich Pasta Recipe

3. "Best Ever" Baked Turkey Meatballs (According to Michael)

2. Easy French Toast without Milk

1. How to cook cabbage that my husband will eat…
(Easy Cabbage Recipe)
I'm glad that you enjoyed these recipes. Thank you so much for the encouraging comments and messages!
I don't know about you but I cooked more last year than ever before. (If I hear, "What's for lunch?" one more time…) Interestingly enough, many of these "best recipes of 2020" were the ones that I personally made over and over again last year. Did your favorites make the cut?
I also made several new dishes that I haven't written down yet. As a result, I have many recipes pinned on my Trello board to share with you this year that I think you'll love. If there are any new recipes that you would like for me to share in 2021, please let me know. Thanks!