Last month, one of my contributors Renee attended an event in California that was sponsored by Honda. (While I can appreciate cars, I still prefer to be driven 🙂 ) Read her thoughts below…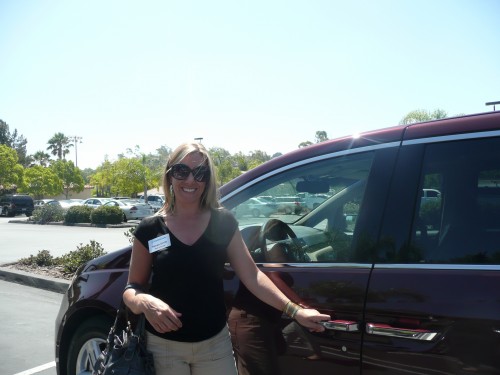 Renee & the Honda Odyssey
I love to drive. And believe it or not I love to drive all over New York City. I love parallel parking and weaving in and out of traffic and cutting across side streets to avoid traffic jams. And I just found a minivan that is actually fun to drive.
I was invited, on behalf of Mom in the City, to experience the new 2011 Honda Odyssey and I have to say—I really like this car! It's the fourth generation of this model, and it's obvious that the design team really considered the feedback of parents in creating this version. In fact, the senior designers and engineers for the 2011 Odyssey are all parents and Odyssey owners. There are all kinds of features that you could only truly appreciate as a parent. For instance, the cabin is really quiet. In designing this car, they took special consideration to create sound clarity between the first and third rows. (As in, "Mom, Joey is pushing me and he took my ice cream." "Joey, don't push your brother and hand me up that ice cream, I'm hungry." All without having to shout or turn around!) It also fits up to 5 child seats, three of which can all fit in the second row! So for all you very productive families out there, now you can all take one car! The entire dashboard and console is very intuitive and easy to navigate while driving. I answered the phone, shuffled my iPod, checked the map for directions, grabbed a diet Coke from the cool box (one of my favorite features—a little box that filters air off the a/c to keep up to four 20 oz. drinks cool while you're driving) and pretended to yell at my kid in the back seat (in actuality he was safely on the other side of the country during my test drive)—all without missing a beat. There are hookups all over the car for any kind of electronic device you can imagine (Nintendo DS, iPods, etc.) and there's a huge storage container between the front seats that fits almost any handbag comfortably.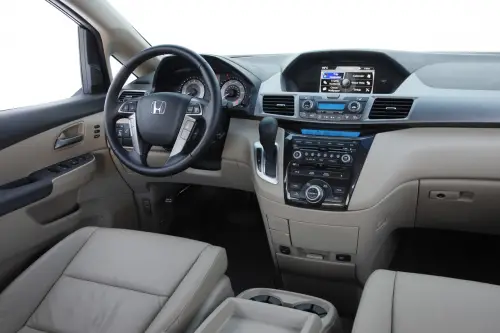 And although you can tell you are driving a big car, it handles surprisingly easily. I like to feel connected to the road while I'm driving and I did in the Odyssey. I actually could not believe I was driving a minivan. In order to demonstrate how well the 2011 Odyssey handles, the Honda folks set up an "obstacle course" for us to try out various parking maneuvers and safety scenarios. It was easy to back into a parking space, since the minivan has a rearview camera, and it could handle even the tightest of curves. And it looks pretty sporty, too. In fact, I like how it looks over any sport utility vehicle you could send my way!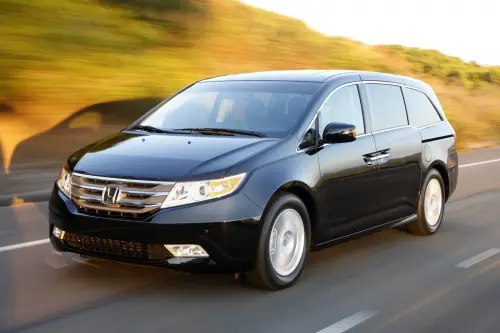 The 2011 Odyssey was designed in America and is manufactured here as well. It gets 19 mpg in the city and 28 mpg on the highway, and it has a large fuel tank, so you can drive 40 miles before you will need to refuel. It is made of high strength steel for safety and was designed to protect pedestrians as well as passengers. Honda expects to receive the highest possible safety ratings for this car.
The Honda event I attended to showcase this new Odyssey was attended entirely by parents who write blogs. And in the several days we spent experiencing this car, I did not hear one negative comment about it or one suggestion as to how to improve it. We were won over and you will be too!
Here are a few more fun facts:
o The 2011 Odyssey is priced starting at $27,800 (and up to $43,250 for the amazing Touring Elite model).
o 8 adults can fit in this car very comfortably.
o The 2nd and 3rd rows are completely adjustable to allow for more elbow room, more car seat room, of more storage.
o There are five LATCH positions for child restraint seats—more than any in its class.
o The Odyssey features a 3.5 liter i-VTECH V-6 engine with 248 horsepower and 250 lb-ft of torque.
Note from Kimberly: A lot of car manufacturers are reaching out directly to moms this year. Do you have any thoughts about the Honda Odyssey? Would you consider purchasing one if you were looking for a family minivan?