Congrats to the winner: Lindsey Calubayan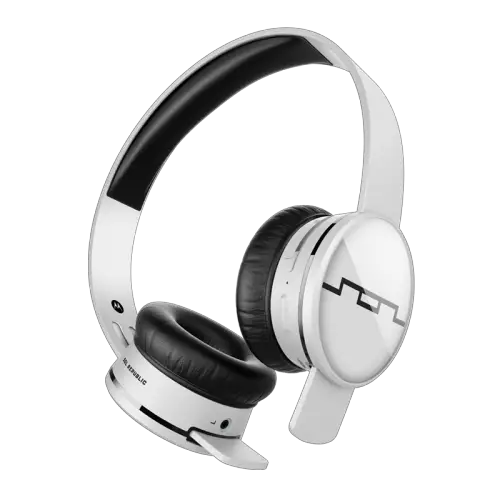 I attended the Consumer Electronic Show (CES) in Las Vegas last week. There were so many great things to see and experience that I have several different themed posts and giveaways to share with you over the next couple of weeks. Basically anything tech-related that you could imagine was showcased – including robotics, 3D printing and more.
In regards to technology, I am most interested in the technology that enhances my everyday life, since I don't like tech just for the sake of having the latest gadget. For instance, I'm interested in headphones since my family uses them on a regular basis. I love to use them to listen to music and podcasts. Michael (my 9 year-old) has also become a recent fan of headphones, but my husband and I recently stopped him from wearing them because he was keeping the volume up too high after repeated warnings. Obviously, we are not the only family who enjoys using headphones, because there were a ton of on and in-ear options at CES. There really was a wide range of styles and prices (including several $1,000 pairs!) to fit every taste and budget on display. Below are a few of the headphone trends that stood out to me:
1. Fashionable Headphones: Who says that tech and fashion don't go together? Not the creators of trendy headphones. Snooki (yes, the Jersey Shore one) teamed up with iHip for a line of trendy earpieces. Monster paired with Lady Gaga and Vivienne Tam. Meanwhile, Sennheiser's $350 MOMENTUM headphones are a combination of metal and leather.
2. Noise Control Headphones: Whether you want volume control or noise canceling headphones, CES had several options. KidzControl Volume Limit Headphones by gearforkidz.com and Etymotic's ETY•Kids safe-listening earphones (that my friend Kim Orlando raved about) are both great options for controlling the volume for kids. Meanwhile, Audio-Technica's QuietPoint Active Noise-Cancelling Headphones, Panasonic's Noise Cancelling Headphones and Soul by Ludacris' Noise Canceling Headphones all help to drown out background noise.
3. Bone Conduction (Open Ear) Headphones: This was the category that surprised me the most, because I didn't' realize that vibrations from your cheekbones could connect to your inner ear. That means, that you can wear headphones on your face leaving your ears free to hear what is going on around you. That's pretty amazing and especially helpful if you wear your headphones outside where you need to be aware of your surrounding. Panasonic also offers some bone conduction headphones, but the AfterShokz Sport headphones are the ones featured in this short clip:
4. Wireless Headphones: I especially like wireless headphones when I am working out in my home, because they give me more flexibility to move around. Meanwhile, my husband also enjoys using them when he is traveling. They serve multiple functions and several brands (including Monster, Jabra and Plantronics) featured wireless headphones and/or earbuds at CES.
I was happy to get a review pair of the TRACKS AIR Wireless Headphones by SOL REPUBLIC and Motorola before I even went to the show though. I let my husband "borrow" them and I will probably never get them back. Both the sound and battery life (15 hours) combine to make this pair of headphones a great value. Best of all, SOL REPUBLIC is kind enough to give away a pair of their TRACKS AIR ($199.99) to one lucky Mom in the City reader. (SOL REPUBLIC also shares some pretty cool updates and special offers on their Facebook and Twitter pages, so if you're on those social media channels, consider following them.)

Mom in the City newsletter subscribers can enter to win the TRACKS AIR giveaway by leaving a comment below sharing your favorite song. For an extra entry, simply share about this giveaway on your favorite social media platform and leave a comment stating where you shared it. A winner will be chosen on January 31st at noon. Good luck!
If you enjoyed this post, don't miss future ones! Please be sure to sign up for my biweekly email updates. (If you like getting updates as they post, you can follow me on Facebook or Twitter.) Thanks!