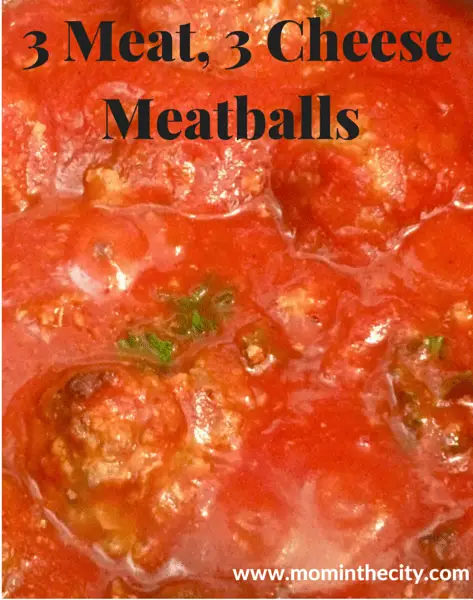 Recently, I "bribed" my photographer friend to come over and take a quick photo of me for the blog. Since it was such short notice, I said that in addition to paying her that I would make lunch for her and her husband. Since they requested pasta, it gave me an excuse to practice a new 3 meat, 3 cheese easy baked meatballs recipe. I'm going to take the fact that all of the meatballs were gone by the end of lunch as a sign that they were a hit!
3 Meat, 3 Cheese Meatballs (Easy Baked Meatballs Recipe)
Author:
Ingredients
1 tbsp olive oil
1 lb of ground meat (beef, pork and lamb 3 meat mixture)
1 slice of the end of a bread loaf, crumbled up (or you can use ¼ cup of dried bread crumbs)
1/4 cup of cheese (3 cheese blend – Parmesan, Asiago and Romano)
1 egg
1/4 cup finely chopped onions
1/4 cup chopped parsley
1 ½ tsp of fresh oregano (or ½ tsp of dried oregano)
2 cloves of chopped garlic
1 ½ tsp seasoned salt
1/2 tsp ground black pepper
Instructions
Preheat the oven to 450 degrees Fahrenheit.
Spread the olive oil on the bottom and sides of an 8-inch square Pyrex baking dish.
Thoroughly mix all of the rest of the ingredients together in a large bowl.
Use the mixture to roll golf ball sized meatballs and place them into the baking dish closely together.
Cook the meatballs in the oven for 20 minutes.
That's it. Once the meatballs are cooked, take them from the dish and let them simmer in marinara sauce (or your favorite sauce) over a low heat for 15 to 20 minutes. I served the meatballs to my friends with whole wheat spaghetti, but you can eat them however you like. Enjoy!