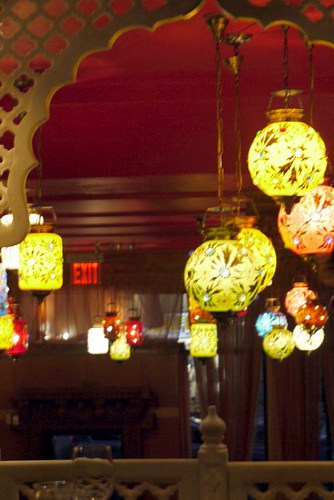 NYC Restaurant Week is here! I am happy to see that there are several restaurants that I have personally visited in the past who are participating this year. Below are my top picks:
1. B. Smith's Restaurant: This is one celebrity-owned restaurant that does not disappoint. They serve American food with southern twists. I have been to B. Smith's several times in the past. In addition to their regular menu, they have some amazing specials that vary based on the day. I'm still wondering if they will ever serve the chicken fettuccine that I ate there before. It was the best ever! If you don't live in NYC, check out the recipes that they share on the B. Smith site.
2. China Grill: Reggie and I went to China Grill for Restaurant Week back in 2008. You can read about it on the FCM NYC Restaurant Week post.
3. Devi: This is the perfect time to visit this amazing Indian restaurant. You can read about my visit there on the Disney Dinner at Devi post.

4. Nobu New York: When I worked in investment banking down in Tribeca, this Japanese restaurant was one of our "special event" spots. I had the best sushi that I have ever tasted while dining at Nobu. Oh, how I miss corporate credit cards at time. Sniff.
5. Red Rooster Harlem: I enjoyed a Lunch date at Marcus Samuelsson's Red Rooster Harlem with my husband and would recommend this Harlem comfort food spot. (More details and food photos are on the post.)
6. Tao: This is a great chance to visit this popular Pan Asian restaurant. I have been there several times – for business and pleasure. The food is consistently excellent and the "Asian temple" décor is unique.
7. Telepan: Bill Telepan, the chef at this Upper West Side restaurant, primarily uses seasonal organic and natural foods. The great part is that the "taste" is not sacrificed in his dishes. I constantly recommend this restaurant to friends. A Restaurant Week reservation is simply a bonus.
8. Tribeca Grill: Robert De Niro's Tribeca spot has both great service and great American food. Sometimes the staff at popular restaurants in NYC can be a bit aloof – okay rude – but that has not been my experience here. The times that I have visited, they seemed to treat everyone like a "celebrity".
Have you looked over the list of participating Restaurant Week partners? Are there any that you plan on visiting?