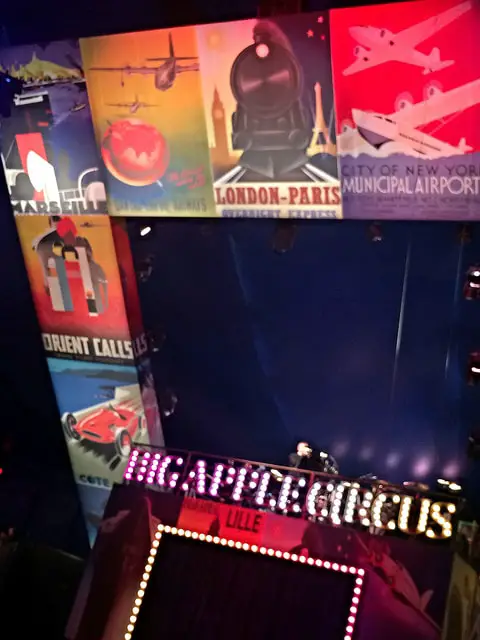 My family loves the Big Apple Circus. I am constantly amazed at how the producers are able to pull together such wonderful new programs each year. They do though and the Big Apple Circus has returned to Lincoln Center with the world premiere of its newest show The Grand Tour which runs through January 10, 2016. Sean and I went to review the show on Saturday and we had a great time. (Thankfully, I didn't get into another fight at the circus!)
As I mentioned, we always love the Big Apple Circus. This visit was especially captivating because we were sitting in the front row right outside of the ring. As Sean later shared with my husband Reggie, "We could see the horses' butts!" (Alrighty.) The circus acts were engaging overall, but there were certain parts that stood out more than others. As such, I am sharing
"8 Reasons To See Big Apple Circus' The Grand Tour"
(according to Sean and Kim) below:
1. Chiara Anastasini has amazing moves in the HULA HOOP ACT. My immediate thought was "Shakira (the singer/dancer) has nothing on her shimmy-wise."
2. Alexander Koblikov makes BALL JUGGLING 10 balls look so easy!
3. The Energy Trio does things on HANDSTANDS that most people can't even do standing up. A crowd favorite, they were both strong and elegant.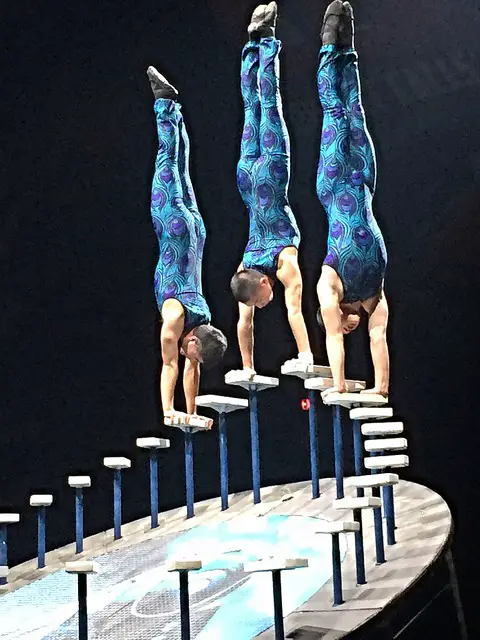 4. Eric & Jayson Dominguez will have you gasping for breath as you watch them perform on THE WHEEL OF WONDER. I had to keep turning my head because I was scared that one of them would fall off the wheel while jumping rope or walking on the wheel while blindfolded.
5. The Zuma Zuma Troupe of AFRICAN ACROBATS have some serious six-packs to go with their performance. I was thinking that I really need to up my workout game. Meanwhile, Sean said, "Mommy…you're married!" (Whatever. I wasn't even thinking about them in that way. I have a husband with a six-pack of his own at home!)
6. Sergey Akimov is wonderful on the AERIAL STRAPS. He made it look so easy. I took an introductory circus class before…it is NOT easy to support your body weight and do all of those movements!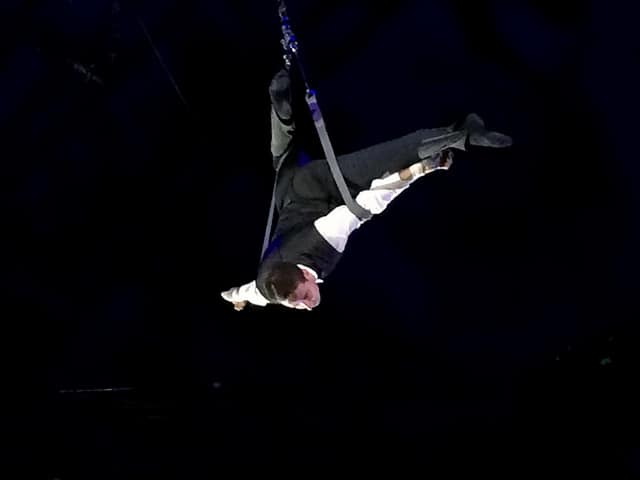 7. The MUSICAL CHAIRS portion is really cute. They chose three people from the audience to participate. For this particular performance, they let a little boy win. (I say "let" because it seemed as if that kid had never played musical chairs before. He was running all around the ring and not focusing on the chair at all. The audience had to remind him to sit down. The other two participants were really great sports though.)
8. The Dosov Troupe is the last act on the TEETERBOARD. All of their jumps and moves were excellent but I gasped when they did flips while wearing stilts.
I don't know if it was because of the nature of the acts or because we were sitting so close, but I gasped and held my breath more than ever. Sean thinks that it was probably a combination of the two…and he's probably right.
In addition to the great circus acts, I really appreciate all that the Big Apple Circus contributes to the community. I was impressed. In any event, definitely be sure to see Big Apple Circus' The Grand Tour before its run ends on January 10, 2016. You can learn more at www.bigapplecircus.org or by calling (888) 541-3750.
Thanks to the Big Apple Circus for the complimentary tickets. (As always, all opinions are my own!