On Saturday, my family went to visit the New York Aquarium along with my husband's parents. Overall it was a fun visit.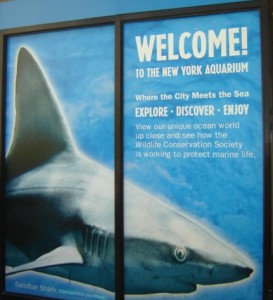 When we drove up to the parking area, my husband looked and said, "Parking is $25!" At first, we were tempted to turn around…$25 is a lot for parking for a couple of hours. In fact, we saw cars in front of us get out of the line. As we drove closer though, we saw in the fine print that the $25 fee included one adult admission. So, the parking really only ended up being $12, which is much more reasonable. (If you don't want to pay that, you can always catch the subway. It drops you right off at the Aquarium.)
The Aquarium was alright. (The one that we visited in Long Island, Atlantis Marine World Aquarium, is bigger/has more of a variety of undersea animals.) At this visit, Michael was especially fascinated by the walruses. The tank full of bright, colorful fish was another highlight. "There's Dory and Nemo!", he said excitedly. I especially liked the eating area. There was a large variety of reasonably priced choices. (My fish and chips were yummy.) The good thing about this particular aquarium is that you can easily see the whole thing in less than two hours which is helpful when you have small children.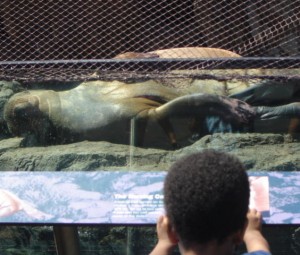 Afterwards, we walked along Coney Island's boardwalk and played a few games. All in all, it was a great day spent with family.