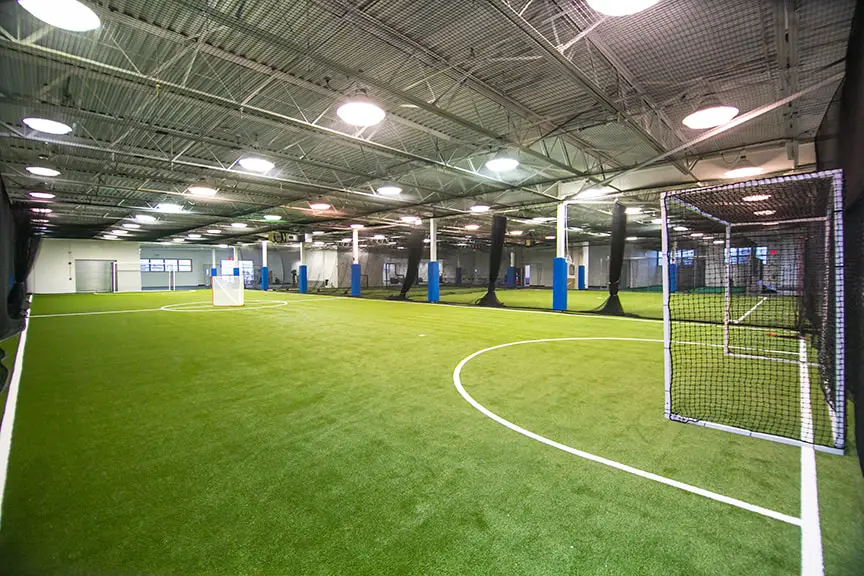 Do you have plans for this Saturday, January 16th from 10am to 2pm? If not, consider attending the Grand Opening party for A-GAME SPORTS, a brand new 25,000 square foot sports facility space for children, teens and adults in New Rochelle. (It only takes about 20 minutes to get there from Manhattan or Queens.) My family will be there along with Westchester County public officials, professional athletes, community leaders, authors and media personalities.
The climate-controlled space is now open seven days a week and offers a variety of training programs (baseball, soccer, lacrosse, softball, strength and conditioning, speed and agility and more) for kids of all ages and adults. All of the trainers at the facility are professional athletes who have either played in college or have professional experience. Birthday party rooms are also available. Come to the grand opening so that you can see the space for yourself. You will get the chance to meet the A-GAME SPORTS team and there will will also be fun games, competitions and several chances to win prizes.
FYI: I am not being compensated for this post. Rather, I'm super-excited when people are successful at following their dreams.  I have been friends with Beth (Role Mommy) for many years. Beth is married to Darin, one of the co-owners of A-GAME SPORTS. Beth referred Darin to my (then) new web development company to create the starter A-GAME SPORTS website. The starter site was one of the first websites that I designed and the new, sleeker site is one of my favorite design projects so far. During the process Reggie and I were able to get to know Darin better. He's a gem – full of heart and passion for helping kids do well in sports and life. Both Darin and his business partner Kevin held corporate careers before starting A-GAME SPORTS, but they decided to pursue their sports passion instead. I am glad that that they did.
From a distance, I have seen the hard work and devotion that Darin and Kevin have both poured into this business and I'm so thrilled that their sacrifice is starting to pay off. It couldn't have happened to a greater set of guys.
If you build it, he will come – Field of Dreams
Darin and Kevin have done their part by building an amazing program and facility. Let's go and support A-GAME SPORTS. Even if you can't make it to the grand opening, consider enrolling your kids (or yourself!) into one of their programs and/or holding your next special event there. You won't regret it!