Today was a great day!
-One of my best friends called me to share some long-awaited great news (that I can't share, because I don't want to "steal her thunder").
-Barbara Jones of One2One network sent me one of the most thoughtful holiday gifts ever – a beautiful ornament with the names of all my family members on it. Barbara didn't know it, but only special ornaments go on our tree. I have this thing where we only add a few new meaningful ornaments each year. By the time the kids get older, the tree will be full of "memories". The only new ornament that we added so far this year was one that a friend gave to us. It has a small picture of our family at Disney earlier this year in it. Now, we have another new addition thanks to Barbara. Isn't it adorable hanging on our tree?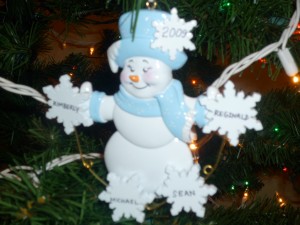 -My son's "favorite part of the day" was our snowball fight on the walk home from school. It wasn't really a fight. I just let him hit me with four snow balls and (of course) I hit him back with soft snow.
AND
– I was notified that I won iRobot Roomba's individual "That's iNGENIOUS Challenge". For the challenge, iRobot asked participants to submit ideas that were solutions for everyday life challenges. iRobot and their panel of judges thought that my idea was "the perfect solution to keep mommy and baby dry on rainy days, especially all the city mamas out there." As someone who keeps a "Million Dollar Ideas" notebook filled with various ideas, this was a special win. Yes…I have journals/notebooks/lists for practically everything(?!)
Anyway, the award is a $2,500 check and $2,500 DonorsChoose.org gift certificate. With the help of the challenge prize, I am looking forward to beginning work on my idea and to finding a partner for product development. You all know that my husband is a NYC math teacher, so I am equally excited about the DonorsChoose.org gift certificate and I plan on using it to fulfill "Urgent" project requests for Grades PreK-2, since Mom in the City is geared towards moms of young kids.
I know…enough about my great day…what about the conference pass? So…don't you want one of these:


Earlier in the day when I received my beautiful ornament from Barbara, I started to feel badly that I would not be able to support her by attending Blissdom, an upcoming conference that she is co-planning. I love Barbara. She is one of my favorite marketing friends and an all-around lovely woman – inside and out. The timing for Blissdom just doesn't work with my family's schedule though. If it did, I would be there in an instant. Of all the conferences that I "didn't attend but read about" last year, Blissdom was the only one that I really "missed". I bought the transcripts and they were excellent! The thought popped into my head that since I couldn't go, maybe I could pay for someone else's conference pass so that they could go. I checked the Blissdom site and the full conference pass is $307.46 (with fees). That's not super expensive but I just finished holiday shopping….and tipping (did I mention that we have 9 service people in our new apartment building?!). So, in the back of my mind, I thought, "Okay, if I get this (tentative) consulting job, then I will buy someone's conference pass." Well…since I learned about the "That's iNGENIOUS Challenge" through blogging…I'm going to use a small portion of the challenge prize to send a fellow blogger to Blissdom (yay!). I bought the ticket already, so now I just need to pick a winner. Below are the details of the Blissdom Conference Pass Giveaway:
Let me start off by saying what this giveaway is not:
-It's NOT a popularity contest.
-It's NOT a "who deserves it the most" contest.
It is simply a chance for someone who wants to attend the Blissdom conference to get the chance to go. While at the conference, there are "no hoops". I don't want you bothering other conference attendees or tweeting anything. Simply take good notes that you can share with me. (If you're too busy learning and having fun, that's fine. I'll probably end up buying the transcripts like I did last year anyway!)
To win, there is one mandatory entry requirement and one optional one.
Mandatory:
-The theme of Blissdom 2010 is "Follow Your Bliss". As the site says, "Following Your Bliss means dreaming impossible dreams – and then making them possible through creativity, passion and direction." To enter, please write a post on your blog sharing how you have followed your bliss in 2009 and/or how you plan on doing so in 2010. The post can be as short (or long) as you like. It just needs to include a link back to this post on Mom in the City. When you're finished, simply leave the link to your post in the "Comments" section below. (I'll stop by and visit your blog, just to say "Hi!")
Optional:
-Tweet about this giveaway including a link to this post. (I'm @mominthecity on Twitter.) Please be sure to leave your twitter name in your second comment.
Lastly…
I'm not big on a whole lot of rules, but (based on past experience with conference pass giveaways), I have two rules:
1.) The winner must not currently have a pass to Blissdom 2010. (Please give someone else a chance.)
And
2.) The winner actually has to use the pass. It is not transferable. If the winner cannot use the pass, they must notify me before February 1st so that I can choose another winner from the original giveaway entrants.
The winner will be chosen randomly on January 15, 2010 at noon and must claim their prize within 48 hours or another winner will be chosen. Good luck!