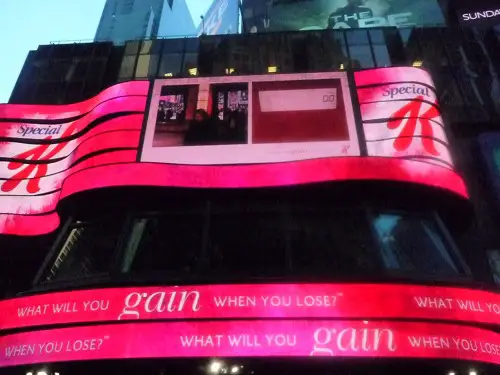 A few months ago, I read a "Thanks to my sponsors" post on another blog. In it, the blogger thanked all of her site sponsors for the month. I thought that was really cool and decided to imitate that with my larger sponsors. (I forgot the name of the blog that I was reading or I would link to it.) Sponsors are the reason that I get to do what I love…work from home while raising my kids.
Now that the kids are both settled into school and doing well, my financial "agreement" with my husband has changed. My income is no longer the extra "gravy"…it's now a part of our family budget! As long as I can continue to make an agreed-upon amount each month working from home, I don't need to look for an outside of the home job. That is where my "special" thanks to Special K comes into play. Due to the checks that they sent me this month along with a couple of other projects that I am working on, I "get" to continue working from home for 2013. Everything else that I make is "gravy". 🙂 (Now, you all know that I'm from the south. I love myself some gravy, so I will still be working hard!)
Anyway, I've primarily told the "Special K story" on Facebook, but I'll tell it here now…
Back in 2011, TheMotherhood contracted me to be a "Special K Resolution Reporter" at a What Will You Gain When You Lose? event in Times Square. The first thing that we did at the event was get interviewed on camera before stepping on to a giant scale. The "weight" was inspirational phrases or words that captured the emotional benefit of achieving weight loss goals – not numbers. I weighed in at "Confident". (I had even made a video of the event…)
After I did my assignment, I moved on to the next thing. I had no idea that my response, "Confidence, I like that!" would lead to one of the most fun and lucrative relationships in my 8 year blogging career! Later that month (January of 2011), I was notified that my image had been chosen to appear in an Internet commercial. That was cool and a nice little unexpected bonus since it fell under the SAG (Screen Actors Guild) commercial contract. After that, I once again promptly forgot about it. Then in November of 2011, I was notified that a portion of my clip from the event was selected to be used in a new national on-air commercial, which meant that I would get residual payments every time that it was shown. Score! So, in 2012, my portion of the clip ran in three different commercial cycles (two "New Year, New You" themed ones and an "Olympics" themed one). How cool is that?!
While the financial aspect of being in the commercials was wonderful, there was a special added bonus. Friends and family from around the country started calling, emailing and sending Facebook messages asking if I was in that commercial. I have reconnected with some really great old friends based on that four-word clip! I'm so happy about that. My kids have been super funny about the commercial though. Michael (my 8-year-old) initially expressed that it wasn't that great. (He is right, but still…) However, over time, it became "my" Special K commercial in his mind. Recently, he saw one of the Special K commercials and the actress used the word "confidence" in it. Michael and Sean came running into the room that I was in to tell on her. "Oh no she didn't," Michael said. "Confidence is your word. How dare she try to take your line…" I cracked up at his misguided indignation, but it was super sweet.
In any event, thank you Special K for sponsoring me without even knowing it. Thanks for the checks. Thanks for the rekindled relationships. Thanks for "Special K" equaling "Special Kim" in the minds of my kids. I'm grateful!