Toy Fair is taking place this week so on Sunday night I attended a blog party hosted by Fisher-Price at Loews Regency Hotel. In addition to having fun spending time with many of my favorite fellow East Coast blogging friends, I also enjoyed the following:
– I met actor/comedian Gilbert Gottfried. I told him that one of my friends thought that he was one of the funniest comedians ever. He quickly responded, "Oh, he must have me confused with someone else." I get some of his humor while some of it goes right over my head, but he was really sweet in person.
– We ate cupcakes. (I love cupcakes!) They were on a custom cupcake tree inspired by the Fisher-Price Rock-a-Stack toy. That is one of the basic, classic toys that both of my sons played with when they were babies. On a side note, I felt better about not eating that second cupcake when I came home and saw Jennifer Hudson on the Grammys. She looks fabulous…what a great example of self-control!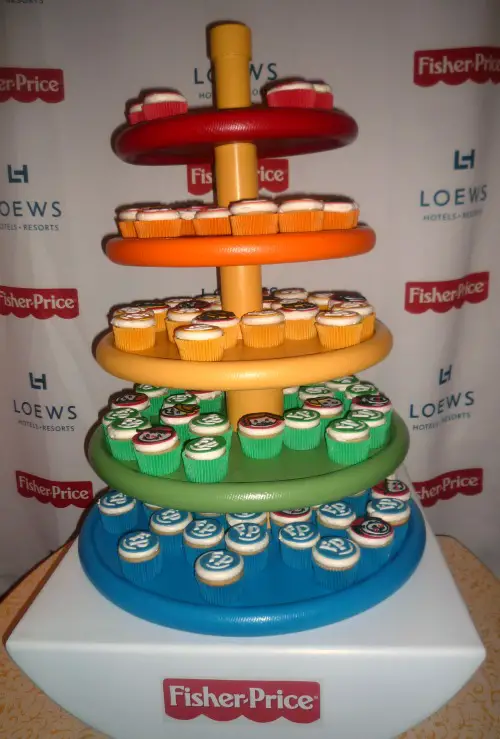 – I was serenaded by a special sing-a-ma-jig! These little toys are so crazy looking! After bringing a gift one home, I saw why they just won the Toy of the Year award from the Toy Industry Association – kids love them! My sons kept pushing its tummy to hear it sing "Let Me Call You Sweetheart". (I tested out several new Fisher-Price toys at the party, but this was my favorite.) In honor of Valentine's Day, I made a video of the sing-a-ma-jig singing "Let Me Call You Sweetheart". Have a great day!

Make an on-line slide show at
www.OneTrueMedia.com