After having tea and scones twice in the past month, I was reminded anew how lovely it is to share tea with great company! That is why I am sharing my top five favorite NYC afternoon tea spots. Whether you want to enjoy tea with your daughters/favorite little girls in your life, with your significant other or with your girlfriends (my preference!), at least one of these spots is certain to be a great fit…

1. Alice's Tea Cup
This is one of my favorites. I usually get the full tea service when I am there. Their curried chicken sandwich and pumpkin scones are personal favorites. You can get a glimpse of their East Side location by looking at the slideshow below. (The photos are from a fun event that I co-hosted there back in 2010.)
P.S. If you aren't in NYC/can't make it to Alice's Tea Cup, the company was kind enough to share their recipes for
Curried Chicken Salad Sandwich
and
Vegan German Chocolate Cake
with me. (The vegan chocolate cake is a consistent reader favorite.)

2. Lady Mendl's
I have enjoyed several of the wonderful five course tea services at Lady Mendl's. There's not a particular dish that stood out. It was just great overall. The service and the décor were also very pleasing to me.
Credit: Inn at Irving Place

3. Plaza High Tea
Afternoon tea at the Palm Court is as grand as you would imagine,
but
it's not pretentious. Every time that I have visited, the wait staff was great about treating everyone well. When ordering your tea service, you will have the choice between "The Classic" and "The New Yorker". I pick the latter each time and I am never disappointed. While everything is exceptional, their lemon curd deserves a special note. The Plaza serves the best lemon curd with their scones that I have ever tasted!
Credit: Fairmont.com

4. Russian Tea Room
A sentimental favorite, my husband treated me to
afternoon tea at the Russian Tea Room
for my birthday a few years ago. (The birthday post has pictures of each course. This is the tea service that I would recommend if you want to enjoy afternoon tea with a man. It's not as feminine as typical English teas. This was also the only time that I have enjoyed tea being served with sweet and sour cherries.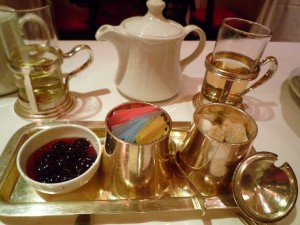 5. Tea & Sympathy
I wrote about
afternoon tea at Tea & Sympathy
in a post earlier this month. After visiting again with my friend Monica earlier this week, I just wanted to add a few more points though. Please note that the shop is not spacious. Currently there are only 23 seats. You will have to wait outside until your entire party is there (or you can go next door to their small store). One nice thing though is that you can stay there as long as you like as long as no one else is waiting for seats.
Credit: Tea & Sympathy
In any event, these are my top afternoon tea picks. There are also a few more tea services that I am planning to visit in 2013 (the ones at Two E Bar at the Pierre, the Mandarin Oriental NYC and Bergdorf Goodman's BG Restaurant), so I will keep you posted. If I have missed any other exceptional afternoon tea spots, please let me know in the "Comments" section. Thanks!
If you enjoyed this post, don't miss future ones! Please be sure to sign up for my email or RSS feed for updates. (Also, if you're on Pinterest, let's follow each other.)