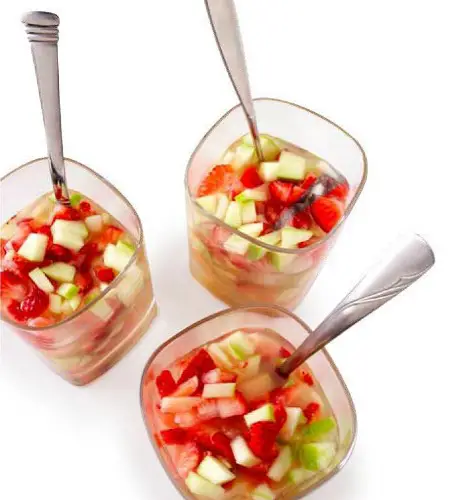 Have you had sangria before? At the Sotto Terra event last week, Chef George Duran prepared a delicious apple-strawberry sangria. Since I only like sweet or fruity tasting drinks, this one worked well for me. It was served with a spoon, so that we could eat the fruit while sipping the wine. My Latina friend who came with me commented that it wasn't "real" sangria, because it wasn't red.  "Sangria comes from the root word "sangre" which means blood in Spanish," she informed me.  After drinking it, she noted that she really liked this white sangria version.  (I was at another event last night where two sangrias were served – a red and a white one, so I guess that white sangria is growing in popularity.)
In any event, I asked George if I could share his recipe with you and he was kind enough to oblige.  You can find this recipe along with many other twist on classics in George's book, Take This Dish and Twist It. (You can purchase an autographed copy of the book through his website.)
Apple-Strawberry Sangria
Yield: 10 Servings
Ingredients
3 Granny Smith apples, cored and finely chopped
1 pint strawberries, hulled and finely chopped
5 cups orange-tangerine juice
Juice from 2 oranges
1 bottle dry, white wine (i.e. Pinot Grigio)
1 cup brandy
ice
Instructions

1.  Add the apples, strawberries, juices, wine and brandy to a large pitcher. Gently stir everything together.
2. Add your desired amount of ice to the pitcher before pouring the drink into glasses.  (Be certain to include some fruit into each glass.) Serve the drinks with a spoon.
Recipe Note:
-It is best to use a wide mouth pitcher and serve the drink in small tumblers.