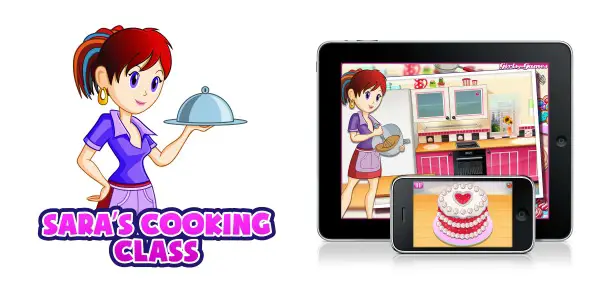 I really enjoy cooking with my kids, so I was happy when I was asked to help promote the launch of the new "Sara's Cooking Class" app. Today, GirlsgoGames launched this gaming app that is based on their popular "Sara's Cooking Class" games.  There are several reasons that I think this app is a great option…
1. It is specifically designed for tween girls. Although I have son, I have worked with preteen and young teen girls for several years. It is great for them to have their "own" quality apps.
2. It helps girls get excited about the idea of cooking homemade meals. Food is one of my favorite things (hence, "Foodie City Mom") and I enjoy both dining out and eating at home. I think that it is important to teach kids to tip well when they are dining out. I think that it is most important for them to learn to cook for themselves though. Whether they end up loving the process of cooking or simply learn to cook so that they will always be able to prepare something to eat, cooking skills are never wasted!
3. Cooking is such a bonding experience. Whether it's bonding with family members or their other girlfriends, cooking – whether virtually or in real life – is just a great overall activity for tweens.
4. As I mentioned before, the app launched today. I like that there are options for various devices. It is available in the iTunes App Store for iOS devices and Google Play and the Amazon Appstore for Android devices.
5. Even though the full app has a low price anyway, I always appreciate when you can "try before you buy". That is the case with the "Sara's Cooking Class" app. There is a lite (free) version that features two free recipes. Then, if your daughter likes it, you can purchase a full version that includes twelve recipes and additional features for $2.98-$2.99.
Anyway, I checked out the "fruit smoothies" recipe that is included in the free app version and it's really good. Little "foodies" will enjoy learning how to make various smoothies with Sara's help. Best of all, it's realistic. Kids can take the information that they learn online and make their own smoothies offline too. In the full version of the "Sara's Cooking Class" app, there are twelve different recipes available, so there are a variety of cooking skills that can be learned. Meanwhile, to get a better idea of what "Sara's Cooking Class" is about, you can watch the short video below:

Video: "Sara's Cooking Class" from Spil Games on Vimeo.
For more information on GirlsgoGames and "Sara's Cooking Class" please visit http://www.girlsgogames.com.
Disclosure: I have been compensated by GirlsgoGames but all opinions (as always) are my own.