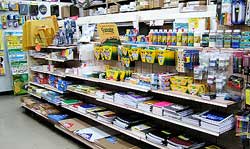 Last week, Reggie and I went out with the boys to buy the items on their school supply lists. We still need to order the Play-doh and pencil zipper cases, but we were able to get everything else relatively painlessly.
Colemans' School Supply List

-Schoolbags (no wheels)
-Lunchboxes
-Composition Books
-#2 pencils with erasers (sharpened and made in the USA)
-Large eraser
-Package of pencil top erasers
-Crayola crayons
-Fine tip markers
-3×3 Post-its
-Highlighters
-Red pocket folders, including one plastic red one
-More (non-red) folders
-Glue sticks
-Elmer's Glue
-Small, zippered pencil cases
-Child's scissor (Fiskar or Westcott; metal, rounded tips)
-Loose leaf paper
-Small box of white envelopes
-Scotch clear tape
-4-pack of Play-doh
-Family size box of tissues
-Rolls of paper towels
-Box of Ziploc gallon freezer bags
-Pump hand soap
-Antibacterial liquid soap
-Container waterless antibacterial hand cleaner
-Container of Huggies pre-moistened wipes
(Plus additional cash amounts to be sent in for supplies and fees)
Is our kids' supply list similar to the one that you received for your kids? Just in case you have not finished your school supply shopping, be certain to find the best places to shop on our Best Educational and School Supplies Stores NYC post.
{Post image courtesy of Tannen's.}
---
If you like this post, please consider…
-Signing up for Mom in the City's FREE weekly email newsletter
-Sharing with your friends by clicking one of the icons below ↓