It was so much fun to get away for a few days last week. Although I still believe that 2010 is going to be awesome overall, it has definitely been a bumpy start! That is why I especially enjoyed a little time away from everything and everyone except for "my guys" for a few days. I definitely felt revived when I came back. If you live in the NYC area, I definitely recommend going to Bear Mountain for a brief getaway durring the winter primarily for these three reasons: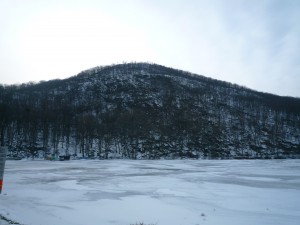 1. It is only one hour away from the city by car.
2. The rooms at the Overlook Lodge (that is where we stayed) are extremely reasonable – especially if you go during the week. I think that the rates are $129 – $139/night. We only paid $99/night, because I found a special code on their Facebook fan page. The rooms are by no means at the level of a luxury hotel, but they are newly renovated, comfortable and clean. (I am very picky about hotel cleanliness and they passed my personal test.) We didn't know it beforehand, but each room has a kitchenette with a microwave, sink and refrigerator. If we would have know that, we would have packed snacks and lunch food – instead of going out for lunch and dinner each day. That reminds me, a communal continental breakfast is included in their room rates.
And
3. Your family will have so much fun! Before going, I thought that we would go on a family hike and a scenic drive to the top of Bear Mountain. We did go on a family hike – which was really relaxing – until the snowball fight. It was hilarious seeing the kids trying to hit us with the snow. I must admit that my husband had the best aim and I found myself "eating snow" on more than one occasion. After our hike/fight, we went back to the room and relaxed. While there, we also rode on the indoor merry-go-round, played hotel football, had pillow-fights, made snow-angels and went sledding. I have not gone sledding since I was a teen. We bought one of those little circular sleds and had a blast on one of the hilly areas. I felt like a kid – going down on my back as well as stomach. Now, we are all hooked. We can't wait to use our little sled again.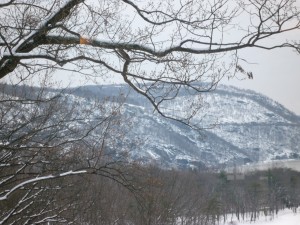 Mainly, we went away so that our city kids could get to see a bit of nature and unobstructed sky. Mission accomplished.