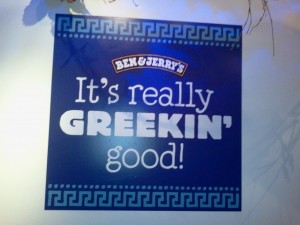 MyBlogSpark invited me to a Ben & Jerry's event for the launch of their new flavor lineup yesterday. I took a quick trip into the city while Reggie took the birthday boy Sean and Michael to the mall to get new shoes. (I no longer have a vote in their shoe selection, so I'd rather not go!) I thought that they were going to make the new product on-site but no such luck. On the plus side though, I was able to sample four of the new Ben & Jerry Greek frozen yogurt flavors AND a smoothie made from their vanilla Greek frozen yogurt. It was a tasty time…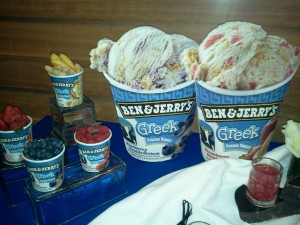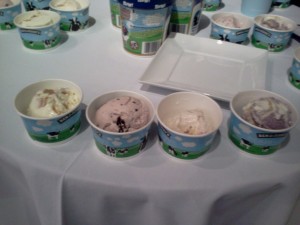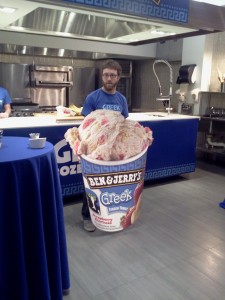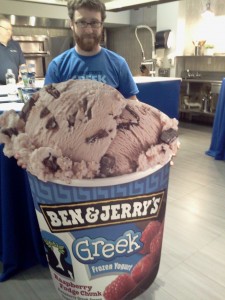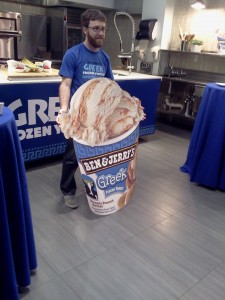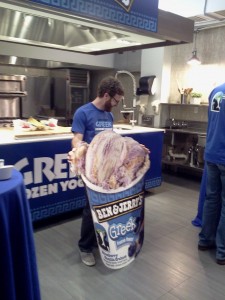 Which one do you think that you would like best? Although the group favorite seemed to be the Banana Peanut Butter flavor, I liked the Strawberry Shortcake one the best of all. It was interesting to see the different taste buds.
On another note, I really like Ben & Jerry's corporate policies and philanthropic endeavors. One of my fellow writers in attendance noted that "corn syrup solids" was one of the ice cream ingredients though, so this Greek frozen yogurt will definitely remain in the "occasional treat" category around here. HFCS (which is a little different, but they are both processed sugar) and such are kind of like bleach to me…I'm a little scared of them…but not enough to totally cut them out of my life! What do you think? Do you cut ingredients that you don't like out of your life 100%?