December 4 Book. What book – fiction or non – touched you? Where were you when you read it? Have you bought and given away multiple copies?
Looking back over the year, I have read many books. Some were for work while others were more for personal pleasure and/or growth. It's difficult to pick one book, but I would say that Finding Balance: From the Inside Out
has helped me the most.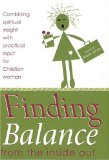 It was a "spiritual birthday" gift from my husband. (I was baptized 15 years ago in August.) My kind husband prefaced the gift by saying, "It's not that you don't have balance that I am giving this to you. It's because I know that you will have even more on your plate (when Michael started Kindergarten, as I focused on building my own business, etc.)." What a sweet preface. It's alright. I knew that I wasn't "balanced" then either. I'm working on it.
You all know that I don't really believe in "balance", but I try not to get caught up in semantics. Basically Finding Balance approaches the topic from a spiritual perspective and provides some practical applications from a variety of Christian women. Theories are good, but I'm all about the practicals. That is why I looked this book so much. It shares about what I spoke a little about on my "Blog-Life Balance" panel at Blogalicious – living out your priorities. The parts that helped me out the most were the sections that shared about: not being afraid to say no; creating order in your (personal) world; not forgetting to have fun; and trusting in God's grace.
As I type this, I know that I have not arrived. There are things that I want to focus more on at home (i.e. I want to clear out all of the closets and settle that window covering situation for once and for all). There are things that I want to focus on work-wise (too numerous to mention). The list could go on. That is alright though, because the journey is fun. I still kind of have that hunch that the day I cross everything off my "to do" list will be the day that I die (?!)