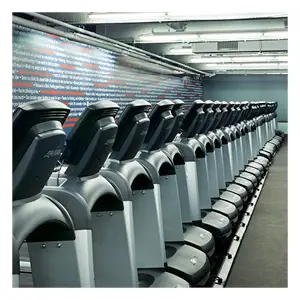 Happy New Year! I am excited to start 2013 on Mom in the City. This month, in the spirit of "New Year, New You", we will be focusing on family fitness and winter activities. We are starting off with my top 5 picks for the best NYC gyms for moms.
1. 24 Hour Fitness
Multiple locations
BEST GYM HOURS: Open 24 hours, these gyms offer workout equipment, personal training and a wide variety of exercise classes. They also provide optional childcare with their Kids' Club day care. They are currently offering free 3-day trial membership passes (with access to all of their clubs in one pass), so you can test them out for yourself.
2. Asphalt Green
555 East 90th Street
New York, NY 10128
(212) 369-8890
BEST POOL: This Upper East Side center houses a swimming pool, sports field, and gym. They offer a variety sports, fitness and swim classes for both kids and adults. They also offer a summer day camp. If you are a swimmer, this is the spot for you. (I was impressed when I visited the Asphalt Green swimming pool with Olympic swimmer Dara Torres. If you are a triathlete, then be aware that Asphalt Green also houses the tri state area's largest triathlon club. Best of all, their childcare providers are first-aid and CPR certified. (Asphalt Green is also registering charter members for their site in Battery Park City that is scheduled to open "soon".)
3. Blink Fitness
Multiple Locations
BEST BUDGET GYM: Budget doesn't have to mean cheap or low quality. This no-frills gym proves that with its great reviews. Top equipment (Life Fitness and Precor), group classes and (reasonably priced) personal training are all praised. With memberships starting as low as $15/month, it's fine that they don't provide childcare. Currently, you can sign up for a free 1-day trial on their site to test out this gym.
4. Edge Gym
403 East 91st Street
4th Floor
New York, NY 10128
(212) 722-0076
BEST FOR "SERIOUS" ATHLETES: Another stand-alone (not chain) gym, Edge Gym is recommended for those who are serious about fitness. While there is no childcare, this is the place to go if you want to get in, work hard and get out…not hang around socializing. They offer personal trainers, advanced conditioning, yoga, spin and Pilates classes. Also, you can currently sign up for a trial day pass to see if this gym is a good fit.
5. Equinox
Multiple locations
BEST HIGH PROFILE GYM: I have visited one of their clubs before and I was impressed by its style and offerings. As such, it doesn't come as a surprise to me that Equinox has received many "best gym" awards. Currently, Equinox has 25 fitness clubs in the New York area. You will pay a premium price, but the experienced personal trainers, variety of group classes and the childcare (that is available at several clubs) are worth it. On a side note, I really enjoy their Q by Equinox blog!
Be certain to check back tomorrow, because I have even more recommendations…just in case these are not the best fit for you. Also, be sure to visit the Health/Fitness section of our NEW "Classes in NYC" page to see what is available to help you meet your fitness goals for 2013!
If you enjoyed this post, don't miss future ones! Please be sure to sign up for my email or RSS feed for updates.