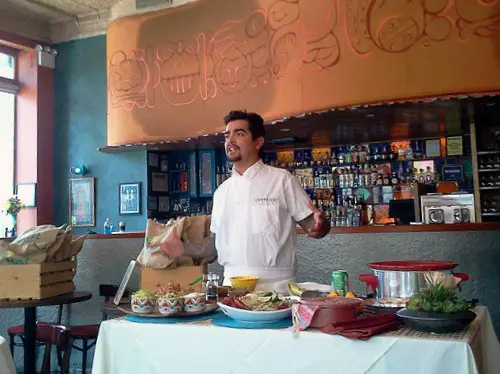 One of the fun things about blogging in NYC is the variety of unique experiences. This year has been no exception. One of my "Life Menu" items was to meet and eat the food of 10 Food Network chefs. At last count, I think that I was up to 13…only in NYC! Anyway, the most popular (based on blog post and YouTube traffic) Food Network chef encounter of 2012 was the Sierra Mist "Eating Together" with Chef Aarón Sánchez event back in April. As well as being an excellent chef, he was very warm and funny. (If you like his work, check out his newly updated website chefaaronsanchez.com.) Below is the highlighted recipe from the event that I attended…
Slow Roasted Chipotle Chicken
(Courtesy of Aarón Sánchez and Sierra Mist Natural)
Ingredients:
• 2 pounds of boneless, skinless chicken thighs
• 1 large white onion, thinly sliced
• 2 garlic cloves, minced
• 2 chipotle peppers in adobo, finely chopped
• 1 teaspoon ground cumin
• 1 12oz can Sierra Mist Natural
• 1 15oz. can fire roasted diced tomatoes, with their juice
• Salt to taste
Directions:
1. Put the chicken in the bottom of a 4- or 6- quart slow cooker and scatter on the onions, garlic, chipotle and cumin. Pour the tomatoes and Sierra Mist Natural over all and cover.
2. Cook on high for 4 to 5 hours or low for 7 to 8 hrs.
3. To serve, mound the chicken into warm flour tortillas and top with shredded lettuce and queso fresco.