December 28 Stationery. When you touch the paper, your heart melts. The ink flows from the pen. What was your stationery find of the year?
I wrote about Smock stationery earlier this year. I wrote:
I love stationery and this company makes some wonderful tree-free greeting cards. I was sent five of their various cards (including 2 Mother's Day cards) to review. Each card was special. The various designs were simple yet elegant. I also like that Smock prints their stationery (and wedding invitation) on bamboo paper. On the environmental side, the company is wind powered and has teamed up with American Forests so customers have the option to purchase a tree along with their stationery. For more information on the individual and sets of stationery, visit www.smockpaper.com.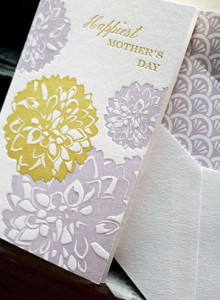 There are so many beautiful types of stationery out there. What is your favorite?