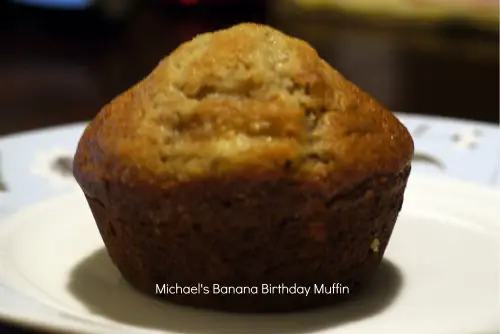 Michael turned eight today. I would write a post about how he is the sunshine of my life. (He has been smiley, friendly and bright since the day he was born!) He doesn't really like for me to write sappy stuff about him anymore though, so I'll humor him since he is "king for the day". Rather, I will share a recipe for his birthday breakfast request…banana muffins.
Lately, the kids love muffins and cupcakes – much better than breads and cakes. That works great for me, because it's less baking time and less cleanup! So, I adapted the recipe for the Easy Banana Bread that Michael and the whole family enjoys. It's the same great taste as the loaf at one-third of the baking time (and no messy mixer to clean). Score!
Birthday Banana Muffins
Yield: One dozen muffins
Ingredients:
1 stick of unsalted butter (room temperature)
1 cup of sugar
2 eggs
1 1/2 cups unbleached flour
1 tsp of baking soda
1 tsp of salt
1 cup of mashed, very ripe bananas (Approximately 3 bananas)
1/2 cup of sour cream
1 tsp of vanilla extract
Directions:
1. Preheat oven to 400 degrees. Place a light coating of butter on the bottom and sides of the muffin pan (or use cupcake holders).
2. In a bowl, cream together butter (that is at room temperature) and sugar until it is light and fluffy.
3. Add the eggs to the butter and sugar mixture and beat all three ingredients together well.
4. In a separate bowl, sift the dry ingredients (flour, baking soda and salt). Combine them with the mixture in the first bowl and blend everything together well.
5. Add the mashed bananas, sour cream and vanilla to the bowl with the rest of the ingredients. Stir everything together well.
6. Scoop the batter into the muffin pan and let the muffins bake uncovered for 16 -18 minutes. (When a toothpick inserted into the center of a muffin comes out clean, the muffins are ready.)