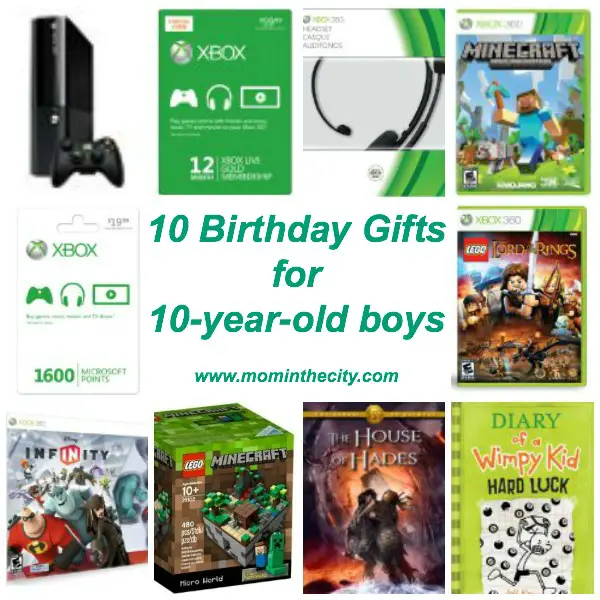 This past weekend, we attended a 10th birthday party for one of my son Michael's best friends. Many of the boys at this age are interested in video games, so the birthday boy was delighted to get an Xbox 360 from his parents. Meanwhile Michael insisted that we get him an Xbox 360 gold membership so that they would "finally" be able to play together online on Xbox Live from the comfort of their homes. In case you want to get a gift for a 10-year-old boy in the near future, below are ten top picks:
Xbox 360 Games & Hardware
1. Xbox 360
2. Xbox LIVE 12 Month Gold Membership Card
3. Xbox 360 Headset
(Kids need a basic set so that they can hear one another while they are playing together on Xbox LIVE.)
4. Xbox LIVE 1600 Microsoft Points for Minecraft: Xbox 360 Edition [Online Game Code]
5. Xbox LIVE Microsoft Points
(Please note that as Michael informed me, the Xbox points will soon be transitioning to local currency.)
6. LEGO Xbox 360 video games
(Lord of the Rings, Star Wars, Harry Potter, Marvel and Batman are all popular.)
7. DISNEY INFINITY Starter Pack Xbox 360
(My sons love the Disney Infinity game.)

Other Gifts
While video games are especially popular with the 10 year-old boy set, I am also listing a few other items that are also well received.
8. LEGO Minecraft 21102
(For Lego and Minecraft lovers, this combo can't be beat.)
9-10. Books (Rick Riordan's Heroes of Olympus series
and Jeff Kinney's Diary of a Wimpy Kid series
are still going strong.)
As always, I tend to ask the parents what their child is interested in at the moment before purchasing gifts! If you have grade school-aged sons, what are some of the toys, gifts or games that they are enjoying at the moment?
You Might Also Like

{Product images courtesy of my Amazon affiliate partner.}