Recently, I bought a ticket to Blogger Bash 2014, a networking summit. It was great to see several of my blogging friends n one place as well as to see several of the brand reps that I have worked with over the years. I think that you get out of blogging conferences what you expect and put into them. I already have relationships with the majority of the brands that participated n the conference, so I wasn't really looking for that. (I did make a great, unexpected Minecraft connection for Michael though!) I primarily attended Blogger Bash to support Debbie Bookstaber, a longtime blogging friend. The conference founders were kind enough to donate time and space for the Bloganthropy Awards that Debbie oversees. (I'm one of the committee members.) Debbie's marketing agency, Element Associates, also hosted a social suite at the bash that was very well done.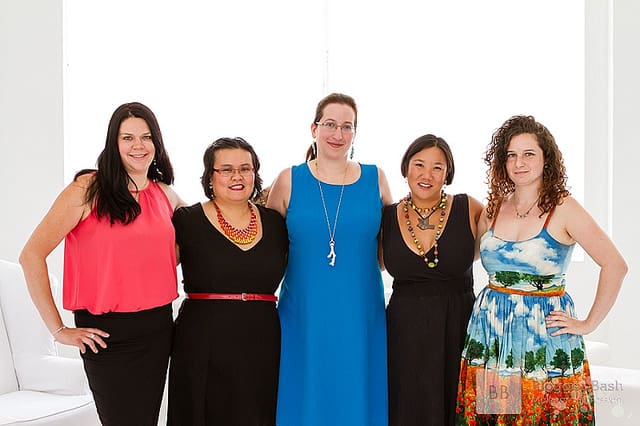 Credit: 5minutesformom
Bloganthropy is an organization that highlights "social good" projects within the blogging community. It was inspiring to hear from this year's nominees and to see their passion for their various causes. The finalists for this year's overall award were the following: We Need Diverse Books Campaign, Leticia Barr, Sarah Fader, Jessica Shyba and Trish Adkins. Definitely take some time to click through and learn more about the various organizations that these women support. (A special "congrats" to Leticia Barr who won this year's overall award!)

Credit: Respective companies
I was only able to visit the Element Associates Social Suite for a short while, but it was enough time to familiarize myself with the various sponsors. Standouts included the new Miii jewelry collection by Joseph Nogucci; eating a piece of birthday cake to celebrate Smokey Bear's 70th Birthday and COVERGIRL's beauty services. (I didn't have time to get a manicure or makeup touch-up, but I did take a sample of the COVERGIRL Colorlicious Lip Gloss.)
In any event, I'm glad that I attended Blogger Bash. I was able to connect with old and new friends, become familiar with a few new (to me) brands and get a little "push" to be more proactive regarding using my social media connections to help expand my personal charitable undertakings.