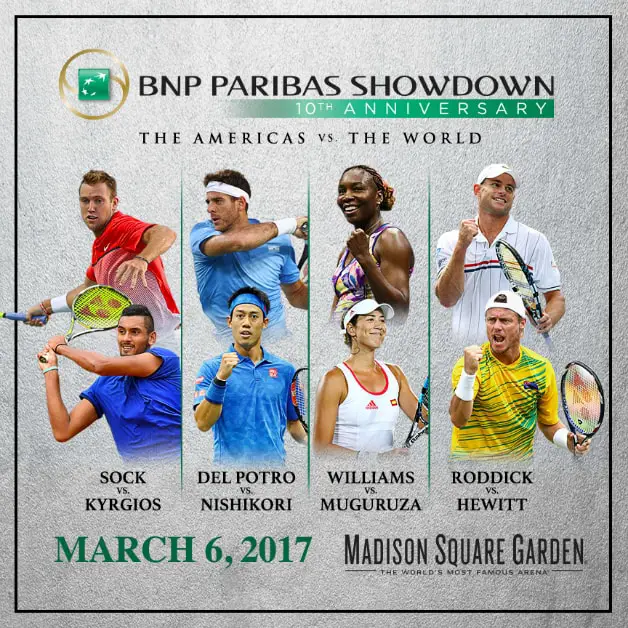 BNP Paribas Showdown MSG is the one-night tennis event that is held at Madison Square Garden in New York City each year. This year, the 10th Anniversary show will be held on Monday, March 6th at 7 PM. A variety of tennis stars will be on the court. Plus, this year's matches will showcase the World Team Tennis format which means that every point will count. It will be interesting to see who will be the standout stars of the show. Personally,  my bet is on tennis "super sister" Venus Williams. I also think that the match featuring Andy Roddick will be exciting to watch.
BNP Paribas Showdown MSG Giveaway
Madison Square Garden was kind enough to gift me four tickets to the BNP Paribas Showdown MSG. Since I only need two of the tickets, I am going to be doing a quick Facebook-only giveaway on my "Mom in the City by Kimberly D. Coleman" Facebook page. All you have to do is leave me a comment telling me whom you think is the best tennis player of all time on this tennis question Facebook post. I will choose a random winner on Tuesday (2/28) at noon EST and update the Facebook post with the winner's name. I will need the winner to respond within 24 hours so that I can get the vouchers mailed out in time. (I share recipe, family fun with sons & other posts from Mom in the City, posts from writing colleagues PLUS the occasional "Facebook-only" giveaway on that page so consider giving the page a "Like" while you're over there. It's not necessary to "like" the page to enter the giveaway though!)
BNP Paribas Showdown MSG Special Ticket Offer
Even if  you don't win the giveaway, MSG is offering MitC readers a special discount. The details are below:
Save 20% on tickets!*
*Valid on select seats
Use code: FAMILY
To purchase: http://bit.ly/2f11pad
Legal: *Offer valid on tickets originally priced $65 – $150. Not valid on previously purchased tickets and cannot be combined with any other offer or discount. Ticketmaster purchases are subject to a Ticketmaster service charge. All sales are final- no refunds or exchanges. Offer may be revoked or modified at any time without notice. Offer subject to availability. Other restrictions may apply. Accessible and companion seats are available via the Disabled Services Department at 212-465-6115. ©2017 MSG Sports & Entertainment Holdings, LLC. All rights reserved.
Good luck!