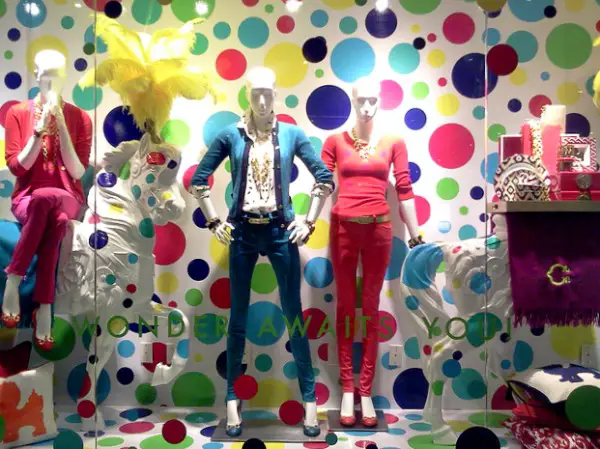 Yesterday, I enjoyed a "Wonders of New York" event that was hosted by C. Wonder, the popular women's clothing, accessories and home décor store. The main point was to preview the new C. Wonder at the Shops at Columbus Circle. I met up with the group in the Fashion District and to my delight, several of my blogging friends (Jill, Linda, Mitch, Serena and Victoria) were also there. Events are just so much more fun when you get to experience them with friends.
We started off with an entertaining double decker bus tour. John Zeiders, C. Wonder's VP of Merchandising, was hilarious as our stand-up host/comedian as we rode up towards Columbus Circle. (I'm just glad that he didn't get hit in the head by one of the traffic lights along the way. There were a few close calls!) Anyway, John did a great job of explaining what was in the gift bags that were in our bus seats along with sharing about the planned highlights of C. Wonder's grand opening extravaganza for its new The Shops at Columbus Circle location that is happening this weekend (September 22nd and 23rd). The things that I noted were the following:
Regarding this weekend:
-The first 300 customers will receive gift cards. These mystery prizes will range in value from $5 to $250.
-A variety of events will be held throughout the weekend. Classic carnival games like the "claw game" (which I can personally never grab anything with!) will be played for fun C. Wonder prizes.
-Today (Friday, September 21st), there will be C. Wonder smart cars handing out fortune cookies. There are different colored cookies and each color corresponds to a different prize (i.e. earrings, gift cards and tees).
Regarding staff favorite C. Wonder products:
-John really liked the calf hair jewelry, accessories and shoes.
-Another employee really liked the trays and dinnerware in the home section.
Once we arrived at C. Wonder, I could just tell that the store will do well at this location. The company does a great job of making the displays bright, colorful and engaging. The visuals make passers-by want to come inside the store. I have attended several preview events but this was one of the few times where the staff found it necessary to consistently turn people (who were not there for the event) away from coming inside to shop. Now, that is a great "challenge".
There were so many things that I liked in the store that I gave up on taking pictures and just made a video of the entire store. Take a peek:
If you liked what you saw, then you will not want to miss the fun and surprises this weekend.
C. Wonder Store Grand Opening Extravaganza
When:
Saturday, September 22nd from 10am to 9pm and
Sunday, September 23rd from 11am to 7pm

Where:
Time Warner Center
The Shops at Columbus Circle, Level 2
10 Columbus Circle
New York, NY 10019