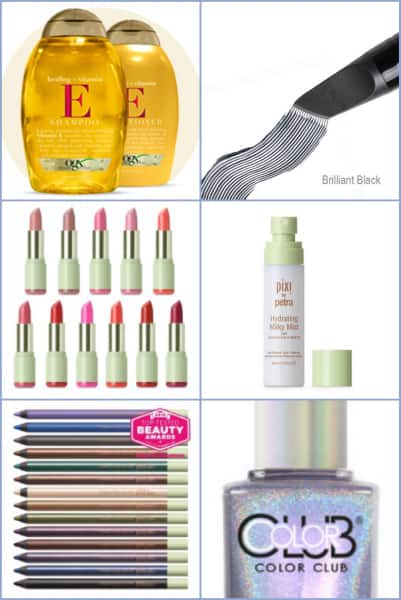 On Friday, Caravan Stylist Studio treated me and several of my blogging colleagues to a pre-Mother's Day pampering event at The Gregory New York. While there, I was able to test out some of the best 2016 spring beauty products.
To my pleasant surprise, the day started off with neck and back massages by Oasis Day Spa. I had just mentioned to my husband Reggie that I "needed" a massage on Thursday night so the timing was perfect. The massage therapists at Oasis consistently provide great service and Friday was no exception. I left the chair feeling perfectly relaxed and stress-free.
After the helpful massage, I received a manicure and makeup application before taking photos with celebrity photographer Brandi Nicole. It was fun to get all glammed up for a couple of hours…right before heading back to Queens to pick up the kids from school. 🙂 (I have to learn to time these glam sessions better!) Meanwhile, I want to share some of my favorite 2016 spring beauty products that were featured at the event:
1. OGX Beauty's E hair products: The reader (whom I gifted the set to) was happy to get that extra boost of vitamins. On a related note,  OGX is currently running a national sweepstakes where you and your best friend could win a year of OGX and a $1K spa gift card. Good luck best friend!
2. POP Beauty Peak Performance Mascara: I have mentioned that I'm the eyelash-challenged one in my family. The comb application on this mascara really helps though!
Pixi by Petra had a few different stand-out items.
3. Pixi Mattelustre Lipstick: While I'm still on the lookout for a rosy pink lipstick that looks great against brown skin, I love the pop of color that Plum Berry provides. (The color band on the bottom of this lipstick pops off…revealing more of the lipstick in a glossier finish.)
4. Pixi Hydrating Milky Mist: This mist is my favorite new skincare treat. Since my facial skin is both dry and sensitive, I have to be careful what I put on it. This light moisturizing spray feels great and I haven't had any skin irritations since using it so I love this mist.
5. Pixi Endless Silky Eye Pen: I mentioned blue eyeliner pencils in my Spring Beauty Trends post and Pixi's waterproof cobalt blue one is another great option.
6.  Color Club Nail Polish: The manicurist asked me what I normally wear on my nails. I shared that I usually wear nail-colored (pinky-brown or clear) shades since I work with my hands so much that manicures rarely last anyway. I usually reserve colored polishes for my feet, but I experimented with "Date with Destiny 1093" on my fingernails for this special occasion. I love this color because it's a little "funky" with the holographic touch and a little feminine because of the gentle shade.
At the end of the event, I left with a Vera Bradley for WIN reversible tote bag (which benefits homeless moms and their children at Win, Women in Need) filled with various goodies. To spread the wealth, I shared the bag and its contents with other local moms and mom-like figures. Highlights included several Manuka Secrets products. Reggie's aunt loves their skin care items for those who are 30 and older. I did keep the La Mere Poulard Traditional Sables Biscuits (French biscuits/ cookies) for myself. They were so good and reminded me of my trip to Paris with my mom…another lovely memory.
In any event, I had a wonderful time being celebrated…and I hope that you were treated (extra) special for Mother's Day too!