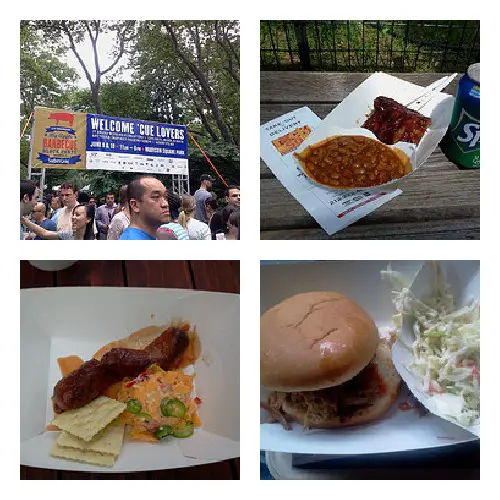 If the Big Apple Barbecue were being held this upcoming weekend, then it would have made the perfect Father's Day gift. Cars and 'cue – it doesn't get much better than that. Reggie actually "talked up" our attendance at the event this year….
On Sunday night (June 3rd), Reggie looked over my shoulder as I was writing my weekly "8 Things To Do With The Kids This Week" post for Mom in the City. He noticed that the 10th Annual Big Apple Barbecue Block Party was one of my picks for the week. "Oh, that barbecue was so good last year," he mentioned. "We need to go again." I already had plans for the weekend so I didn't think that much about his comment…until the next day. On Monday, an agency rep reached out to me on behalf of Infiniti. As the automotive sponsor of the Big Apple BBQ, Infiniti invited my family to attend the barbecue with a courtesy FastPass. Not only would Reggie get his beloved barbecue, but also we wouldn't have to wait in the super long lines to do so…yes! It was meant to be, because my Saturday girlfriend "date" needed to reschedule our time anyway. From Reggie's mouth to God's ears…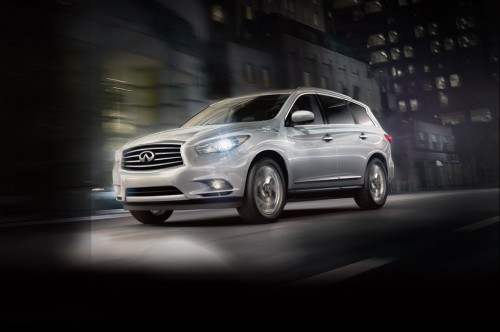 We ended up having a blast at the barbecue. On Saturday, we enjoyed some of the barbecue from the shorter lines. (Even with the FastPass, there are still lines…they are just MUCH shorter than the lines for the general public!) We also stopped by the Infiniti Inspiration Lounge to experience the all-new 2013 Infiniti JX. It really is a beauty with a ton of fabulous features. I know that safety is a top concern of parents when purchasing cars and I was impressed by the various safety systems that were included in the Infiniti Safety Shield concept (i.e. seat belt reminders, collision brake assistance and an around view monitor). My sons kept asking, "Can we get in it?" As for Reggie, I'm not sure what he salivated over more…the car or the barbecue 🙂 !
Another highlight of the day was attending a live cooking demo by Southern Living Editor, Norman King. He was very talented and kind. I emailed him to get one of the recipes that he used and he has already responded. (I will share the video that I took of the cooking demos in another post.)
In any event, we had such a great time that we went back to the barbecue on Sunday to wait for the "long lines" barbecue. One of the longest lines was for Ed Mitchell's barbecue. Once I tasted his two offerings (all natural whole hog and all natural whole turkey barbecue), I could see why people were willing to wait so long. The hog and turkey were both so tender AND flavorful without barbecue sauce…it was all in the rub! Most importantly (to me) Mr. Mitchell was very warm and welcoming. I asked him if I could take a picture of him. Not only did he agree but he also asked me if I wanted my sons to get in the picture too. It was the perfect ending to a special weekend. Thanks Infiniti!