Congrats to the winner: Aura

Did you know that September is Child Safety Month? The week of 9/12 – 9/18 is also National Child Passenger Safety Week. To raise awareness, Chicco is doing two things for Mom in the City readers.
1. They are having one of their safety consultants, Julie Robbins share her expertise on the subject.
And
2. Chicco is giving one lucky Mom in the City reader a Chicco Keyfit 30 Infant Car Seat and Base
($180), the Consumer Reports #1 ranked infant car seat. The winner will be allowed to choose their preferred color.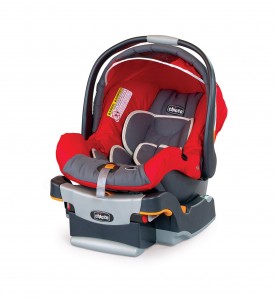 Below is the guest post:
"Buckling up For all Ages: by Julie Robbins
As an injury prevention specialist for over 22 years, as well as a nationally certified Child Passenger Safety Technician Instructor, I am passionate about teaching people how to keep children safe when riding in a car.
However, the fact that I am a mother of four and grandmother of three is the main reason my absolute top priority is the safety and welfare of all children. We can't prevent all of the little bumps and bruises of childhood, but there are steps we can take to reduce the risk of injury to our children. The biggest risk our children face is motor vehicle crashes. Properly securing all children in appropriate car safety seats, booster seats, or safety belts every time is the best defense.
The week of September 12-18 is National Child Passenger Safety Week. The week kicks off on September 12, 2009, with "National Seat Check Saturday," where certified Child Passenger Safety Technicians provide free car safety seat inspections nationwide that educate parents and caregivers on how to install them properly in their vehicles. According to research from the National Highway Safety Administration, three out of four car safety seats are installed incorrectly. It is critical to choose a car safety seat that you will feel confident installing correctly every time.
The four stages of protection for your child in a car.
Every time you move to the next stage, LESS protection is provided. So, don't be in a hurry to move them!
1. Rear-facing is safest. Try to keep your child rear-facing until at least 24 months, longer if the car safety seat weight and height limit allows. The American Academy of Pediatrics released new research showing that toddlers are more than five times safer riding rear-facing in a car safety seat up to their second birthday. You may want to start with an infant-only seat for convenience. You will need a convertible seat (one that faces the rear and forward) when your baby outgrows the infant seat.
2. Forward-facing with a harness: Keep your child in a harness until at least 4 or 5 years old. Most kids younger than 5 are not mature enough to sit still without a full harness.
3. Booster seat: Use after your child has outgrown the harness weight limit of her forwarding-facing seat, and is mature enough to sit still. A booster will only it do its job to protect your child if your child is seated in it properly with the vehicle safety belts postioned properly on him. A wiggly child could be out of positon when a crash occurs and not be protected. You may need to buy a car safety seat with a harness that goes to a higher weight if your child is still too wiggly for his booster.
4. Adult safety belt: Use when your child is big enough, usually not until he reaches 4' 9", and mature enough to wear it properly. See the 5-step Test at www.carseat.org.
Some features to look for when shopping for a car safety seat.
These features will make fit, use, and installation easier for you:
• Rear-facing infant-only seat: Carrier with a detachable base that can be used with and without the base.
Minimum weight limit of less than 5 pounds; maximum weight limit of at least 30 pounds. At least 3 harness positions, with the lowest position less than 8 inches. Well-designed, easy to use, newborn insert that helps with harness fit on small infants. Head support that has very little or no padding behind the baby's head.
• Convertible seat (faces the rear and forward): Maximum rear-facing weight limit of at least 35 pounds. Maximum forward-facing weight limit of at least 65 pounds.
• Combination seat (forward-facing only, can also be used as a booster): Maximum weight limit when used with the harness of at least 65 pounds. Height limit as a booster of at least 57 inches.
Look for these features on any car safety seat with a harness:5-point harness (no shield).
Front adjuster for the harness (near the child's feet).
Easy to use LATCH connectors, the kind that push on and have a button to release are easiest.
Easy to use LATCH adjuster.
Accessible seat belt path.
Some features to look for when shopping for a booster seat.
Booster seats are easy to use. The best person to help with the decision is the child! If a child has a role in choosing his booster, he will be more likely to want to stay in it longer. This will make using it easier for you.
These features will ensure proper fit:
Maximum weight limit of at least 80 pounds.
Maximum height limit of at least 57 inches.
Adjustable backrest.
Adjustable Shoulder belt guide with large opening (may move with the backrest).
Adjustable width at the shoulders.
Lap belt guides that keep the lap belt down on the lower hips or upper thighs.
The best car safety seat or booster:
There are several different rating programs available for car safety seats and boosters. These should only be used as a guide. The BEST car seat is the one that fits your child, fits your vehicle, and is easy for you to use correctly every time. After narrowing down your choices in the store, be sure to try installing them in your vehicle (both rear-facing and forward-facing, if a convertible) before you buy. Always follow BOTH the safety seat instructions and the vehicle owner's manual for proper installation.
Using it correctly is what makes it a safe seat.
All car safety seats and boosters must meet stringent Federal Motor Vehicle Safety Standards to be sold in the U.S. It is when they are not used correctly that makes them unsafe. Always read and follow the instructions for the safety seat. Also, read the vehicle owner's manual section on child restraints. The most common misuses can be avoided by simply following these directions. If you are having difficulty using or installing your car safety seat or booster, call the manufacturer or contact a local Child Passenger Safety Technician.
LATCH or the safety belt
LATCH and the vehicle safety belt are equally safe. Choose the method that holds the car safety seat the tightest. Always try installing the car seat in the rear center seating position first; move to the side if a tight fit cannot be achieved. Many vehicles and car safety seats do not allow LATCH use in the center seating position. Only use LATCH in the center if it is allowed by BOTH the vehicle manufacturer and the car safety seat manufacturer. Never use LATCH and a vehicle safety belt at the same time unless approved by both manufacturers; this can affect crash performance of the car safety seat.
Important Reminders
• Buckle up everyone, every time, every trip! In a crash or emergency braking, an unbuckled passenger can be thrown into other passengers causing serious injury. Also, ensure there are no heavy, loose objects in the vehicle that can be thrown around in a crash.
• Never put a rear-facing safety seat in front of an active air bag.
• All children under at least 13 should ride in the back seat. The back seat is 30 percent safer than the front seat.
• Always buckle your baby into the safety seat first, and then cover her with blankets. Avoid bulky clothing. This can interfere with proper harness fit. A good trick for older children is to buckle them in without their jacket and then put it on them backwards over the harness. Of course, you may want them to wear the jacket out to the car in colder months.
• Never add any product (including toys and car seat covers or liners) or make any changes to a car safety seat or booster that is not approved by the manufacturer of the seat. Add-on products can interfere with the crash performance of the seat. Beware! Many manufacturers of add-on products will state they have tested them—ONLY use products approved by the car safety seat manufacturer! The safety seat manufacturer is the only one that can confirm the test results of its product.
• Never put an infant-only seat on top of a shopping cart. This makes the shopping cart top heavy. The Consumer Product Safety Commission and the American Academy of Pediatrics warn against this practice due to numerous reported injuries from carts tipping over and/or babies falling out.
• Finally, I can't say this enough: ALWAYS read and follow both the car safety seat instructions AND the vehicle owners' manual when using and installing your child's seat!
I know that there are many days when life is very hectic. Our children are precious cargo; never take shortcuts when it comes to car safety seats. Taking the time to make sure you have your child buckled up correctly could be what saves her life. I know this firsthand. One of my daughters would not have celebrated her 24th birthday this year if she hadn't been in her car safety seat 23 years ago.
Locating a Child Passenger Safety Technician and other online resources:
To locate a Child Passenger Safety Technician, call 866-SEATCHECK (866-732-8243) or go to www.seatcheck.org. Other valuable resources online include: www.carseat.org, www.saferidenews.com, and www.usa.safekids.org.
Sources:
http://www.nhtsa.dot.gov/cps/cpsfitting/index.cfm
http://aapnews.aappublications.org/cgi/content/full/30/4/12-a
Now for the second part…
To win the Chicco KeyFit 30 Infant Car Seat, tell me what you learned about child passenger safety from this guest post in the "Comments" section below by September 30th.
For additional entries:
1. Follow me on twitter
2. Leave a comment on any of my other (non- giveaway) posts until September 30th.