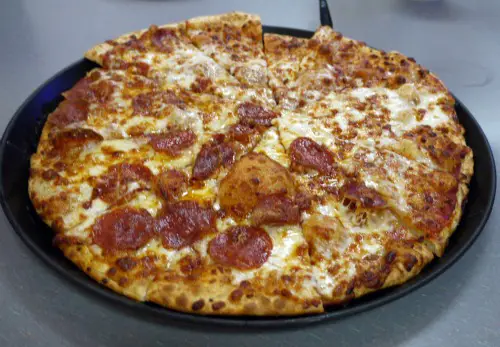 When I was asked to review Chuck E. Cheese's new upgraded pizza recipe, I asked my kids if they wanted to go to a local Chuck E. Cheese and check it out. Of course, they said, "yes"…they love the place. After getting some input from friends on Facebook, we decided to go to the newish location in Flushing, NY.  We went on Friday and the kids, Reggie and I all had a blast.
I must say that timing and location make such a difference when it comes to the Chuck E. Cheese experience. In the past, I have gone with my kids to crowded locations at peak occupancy times.  The kids still had fun, but I tend to get pseudo-claustrophobic with a bunch of kids running and screaming in tight places. The Flushing Chuck E. Cheese was so bright, clean and spacious that we all had an equally good time.  I'm sure that it also helped that we went at an off-peak time (Friday afternoon) so it wasn't too crowded at all.
There are a couple of things that I especially liked about the experience.  First, there was a hand sanitizer for us to use as we were waiting in line to enter the space.  Wherever a group of people are in a confined space, germs abound.  Hand sanitizer can't prevent everything, but every little bit helps.  As we entered the space, I also appreciated the fact that they stamped the hands of the parents and kids with the same code that could only be seen with ultraviolet light.  It made me feel just a bit safer that we were all checked on the way out – to make sure that the kids left with the right people.  Granted, these are two small things, but promoting cleanliness and safety means a lot to me.
We ate lunch before playing the games.  Chuck E. Cheese has changed their pizza recipe that they have used for the last 30+ years.  Before, they  had used a blend of frozen and fresh cheeses and frozen dough. Now, they use fresh cheese and dough.  When trying the pizza, Chuck E. Cheese asks your opinion: "love it", "like it" or "not so much", so that is what I asked my family.  Both Michael and Sean loved it. Reggie and I liked it.  It was a little too greasy and I "sopped" up the visible extra oil with a paper napkin before eating it and giving it to the kids.  It tasted fresh enough, but it just wasn't anything extra special.  So, if you're going to Chuck E. Cheese just for the new pizza, I would say to think twice about that.  I appreciate the fact that they are trying to make the pizza healthier, but I don't know anyone who goes to Chuck E. Cheese primarily for the pizza anyway.  It's the overall experience that had my kids wake up that morning saying…
Sean: "We're going to Chuck E. Cheese today!"
Michael (singing and dancing around): "Where a kid can be a kid…"
That's exactly what they did…had fun being kids.  After lunch, they scouted the place to see what games they wanted to play.  Sean wanted to play "easy games".  Michael wanted to "win tickets" and Reggie (a kid at heart) just wanted to play "sport games".   It was so sweet to see the boys cheer one another on.  "He's got mad skillz!" Sean exclaimed at Michael did great on a game.  Reggie was both happy and embarrassed when he received the high score on the basketball game…happy because the boys were so proud of him/embarrassed because a crowd of teens gathered around to see him do it.  Overall, it was a fun day for the family and that is why I recommend the occasional trip to Chuck E. Cheese…new pizza recipe or not!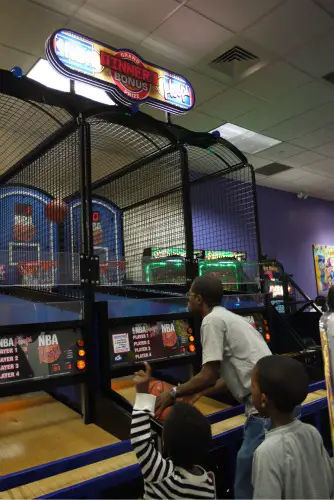 If you plan on visiting Chuck E. Cheese, make sure that you take advantage of their coupon offerings.  I also have two guest passes to give to two lucky Foodie City Mom newsletter subscribers to test out the new pizza recipe.  Each pass is redeemable for one large pizza, four soft drinks and 30 game tokens.  To enter to win one of the guest passes, simply leave a comment below sharing your favorite part of a pizza (mine would be the crust) by August 15th. Good luck!
Thanks to Chuck E. Cheese for providing the 3 guest passes (1 for my family and 2 for the giveaway).