My family was invited to a wonderful program called Citi Field Kids that is sponsored by Citifield and the Mets. I really like when companies give back to the community in ways that are creative and natural fits. Citifield Kids meets both of those qualifications. Six times a year, Citi invites 200 – 300 middle and high school students from the five boroughs of NYC that live in United Neighborhood Housing to attend this program that ends with the kids watching a Mets game. They break the kids up into different groups and I was inspired as I tagged along with one of them.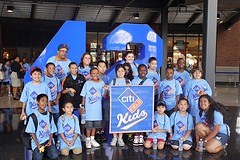 As the day begins, the kids get t-shirts and a snack, before meeting up with their tour guide, a Jackie Robinson Foundation scholar. I think that it's really smart that they use Jackie Robinson scholars, because the kids can relate to them. I was with the group that was led by Simone Williams. I had a few minutes to speak with her before she spoke later in the day. Her personal story was such a good example. Basically, she had become involved with the Jackie Robinson Scholars program when she was looking for a college scholarship. (Her family couldn't afford to send three kids to college all at the same time.) Besides money, the program provided her with life, career and leadership training through their annual conferences and close relationships. After graduating from Penn State, Simone has remained active with the program and serves on the executive board of their alumni association. It was apparent from speaking with Simone, who is currently a media buyer at an advertising agency in NYC, that the Jackie Robinson Scholars program had a profound influence on her life. I could hear it as she spoke of how supportive and encouraging the Scholars program is in helping those who don't have financial resources reach their goals. As she said, "It's all about developing people…helping them to reach for the stars." Her story reminded me of my younger life. My family definitely didn't have the money to send me to Columbia. I remember calling Jack Greenberg (who was the dean of Columbia College at the time) and telling him that I needed to be there. We worked out a plan and the rest is a part of my personal history. Although I wasn't a Jackie Robinson Scholar, the different scholarships and financial aid packages definitely helped to make my college dream a reality.
Anyway, Simone took our group on a tour of the Jackie Robinson Rotunda. While there, she shared about Robinson's life and the nine principles that he sought to live by. (I'm assuming that everyone knows that Jackie Robinson was the first African-American player in major-league baseball.) My personal favorite was Integrity: A life is not important except in the impact it has on other lives.. Then, we visited the adjacent Mets Hall of Fame and Museum.
Later, we met up with all of the other groups for a short program in the auditorium before seeing the game. Steve Silverman of Citi welcomed the kids. SNY anchor Michelle Yu emceed. Raised in the Bronx, Michelle became the first female Asian sportscaster despite many naysayers. Her challenge to the kids was to "Go ahead and get your dream. You can!" Then, Simone spoke to the kids and the other Jackie Robinson Scholars/guides shared a bit about their lives. Next, the kids heard from Mets Hall of Famer Mookie Wilson. Mookie shared how he never intended to be a professional baseball player. He just tried to be the best at whatever he did like his parents taught him. He encouraged the kids to "not let their limitations limit their success". One of the kids was surprised to learn that he would be throwing out the ceremonial first pitch of the game to Mookie…so sweet. All of the kids went wild when Mr. Met came in for photos and they received their giftbags which included a book about Jackie Robinson and various Mets items including Mets bucks for lunch.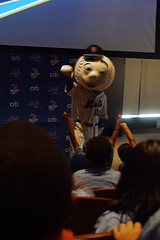 Last of all, the kids saw the Mets game of the day from a section of (really good!) seats that were reserved just for them. I'm pretty confident that those kids won't forget the day for a while. It also helps that the Mets beat the Cardinals. Go Mets!

(On a total side note, the food offerings at Citi Field are amazing. It's definitely not just your standard ballpark fare. They have a Shake Shack, Blue Smoke, a sushi place, etc.)
Disclosure: Thanks to Citi for having my family participate in the day/receive everything that the Citi Field kids did (game, gift bag, & lunch).