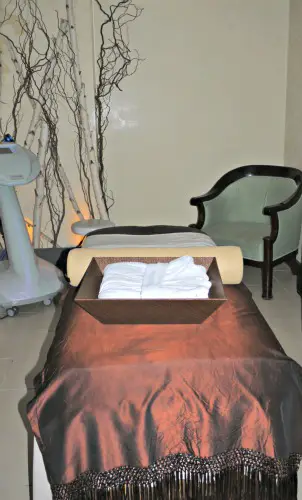 I hope that your Mother's Day weekend was memorable. I had a wonderfully relaxing one. I had the day "off" on Saturday. I went to Manhattan to meet up with a thoughtful girlfriend who unexpectedly treated me to an early Mother's Day breakfast. After that, I went to a spa appointment for a hot stone massage and lunch before heading home. The best part is that I returned home to a super clean home. (While I was out, my home was being cleaned courtesy of Click and Improve, a new online resource for home improvement and repair needs for NYC, Westchester County and Long Island.)
I really appreciate the persistence of Anthony from Click and Improve! He has been reaching out to me periodically since early April to try out one of the company's service providers, and "by coincidence", I chose Mother's Day weekend to do so :-). Overall, Click and Improve offers a variety of services that would be helpful for people (like me) who don't have the time, energy and/or skill set to undertake home repair projects. While I was able to unclog my sink drains in the past, that's about it for me. Leaky faucets, room renovations, painting and things like that are definitely in my "outsource to a handyman (or woman)" category. On the other hand, I can do some of the services – like deep housecleaning and painting – that Click and Improve offers. I just prefer that someone else do it. I'm a minimalist and seeing clutter – except for when the kids are actively playing with a bunch of toys – bothers me so my home is rarely ever a total mess. However, I don't enjoy time-consuming tasks like deep cleaning all of the kitchen surfaces. (It's funny that we had a housekeeper come in once a month to do the super deep cleaning when I only had one child. Now, that we have two sons, we only get a cleaning service on special occasions. That's backwards, right? Reggie helps out a lot more now since he finished his graduate degrees though. I guess that it all evens out.)
Anyway, it's really easy to use Click and Improve. You just select the job or service that you want on their site. (I chose "maid service".)  Then you answer a few questions. (I chose the "I need my house cleaned (interiors) option; followed by "I need to clean my apt. (general cleaning)" and "I have a 2 bedroom apt.") If I wasn't reviewing the service, the price that I would have paid ($125) is comparable to what I was paying almost four years ago.
You can get a better idea of how the process works by looking at their brief video:
In any event, I was beyond pleased with their home cleaning service. I was at home to let the team in and the first impressions were favorable. They called before ringing my bell. They also brought their own vacuum – something that none of the other cleaning services that I have ever used practiced. Most of all, I especially liked the fact that a man came along with the woman housekeeper to make sure that she was settled in before he left. It just made me feel better about that cleaning company overall, because they are protective of their workers. (There are some crazy folks in NYC…) When I returned home after the heavenly massage and delicious lunch, I found "my guys" relaxing in a clean home…that I didn't have to clean. How cool is that? No dusting, floor cleaning or deep cleaning of the kitchen or bathroom for this mom on Mother's Day weekend. Thanks to Click and Improve, I could remain in my "massage state" a while longer…
In any event, if you are a renter or homeowner in NYC, Westchester County or Long Island, I recommend that you try this service when you need your next referral for a home contractor or service provider. I liked what I saw and I'm confident that you will too.