Congrats to the winner: Yvonne C.
Oh, you all are going to LOVE me for this giveaway. Actually, I love you for it, because without you, I would not have been chosen to participate in this review and giveaway program.
Anyway, last month someone from Coach reached out to me and asked if I would like to be a part of Coach's Holiday Blog-a-Day program that would be taking place from November 20th to December 19th. Basically, Coach asked thirty of their favorite bloggers (including me –yay!) what we are most excited about from Coach this holiday season. If you visit www.coach.com/holidayblog each day during the promotion, you can read what each blogger has to say about Coach, including GIVEAWAYS, reviews, pictorials and such. Although, I knew that I would be knee-deep in holiday giveaways and gift guides, I answered a resounding, "Yes!" (Of course…it's Coach!)
The theme for my Coach Holiday picks is my favorite color for the fall – the color purple. If I could only choose three Coach bags as holiday gifts, they would be the following:

1. The purple leather Maggie purse for me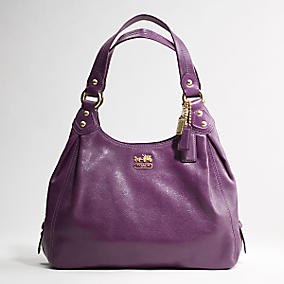 2. The purple textured metallic Audrey bag as a giveaway for one of you!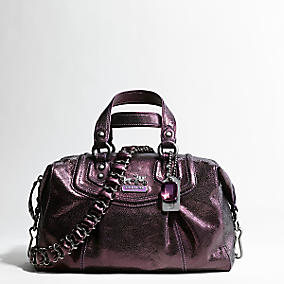 And (to mix it up a bit)

3. The multi-colored Op Art Darcy Clutch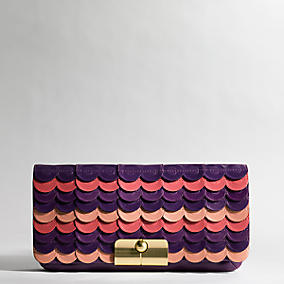 -Let me give you my review of my new best friend, Maggie ($348 SRP) first. She's beautiful. I have been getting "oohs" and "aahs" since she first came into my possession. As one of my twitter friends wrote:
"WOW, I mean wow… that is beautiful LOVE the color You will have it forevr bc it is impossible to kill Coach, qual is amazing" (FYI: She can spell. Twitter just limits you to 140 characters.)
I agree. You know that I'm a simple, stream-lined type of gal, so I love the classic shape of the bag. The color is gorgeous. I am such a typical New Yorker in that I live in black/dark colors. One of my dear fashionista friends gave her seal of approval, "It's good to see you with some color." Exactly. As far as the quality – it is impeccable. Coach is such a classic brand. I remember how even back when I was in high school (almost two decades ago – ouch!), Coach was the "bag of aspiration" for many of my friends. Whenever any one of us was lucky enough to be gifted a real (not knock-off, I hate knock-offs) one, the rest of us would be equally happy. The more things change, the more they stay the same.
Only one note of caution: If you do get a (non-black) colored Coach bag, be careful not to let anyone get ink marks on it – especially not within the first week. If by chance they do, don't try to get the ink mark out yourself. You will probably end up discoloring a bit of your bag – and crying (or at least be near tears until you realize that in the grand scheme of things, you can always flip the bag around). I'm not saying that this happened to me. I'm just saying…

-I chose the Audrey bag ($598 SRP) for one of you. I chose her for several reasons. First of all, it is a beautiful and stylish bag. It has a classic shape, with a little texture to make it extra special for the holiday season and beyond. I also like that you can wear it either as a handbag or a shoulder bag. When I'm out with the husband, I can do a handbag. If the kids are along, it is shoulder bag all of the way. Lastly, I chose it for practical reasons. (If a giveaway is over $600, the winner must pay taxes on the prize.)
-My last choice is the multi-colored Op Art Darcy Clutch ($498 SRP). This pick is a departure from my normal style. I like to mix it up a bit sometimes though. I'm a woman – it's my prerogative. I picked Darcy because I like clutch purses. I feel so classy when I carry one. I especially like the design (it's simple yet modern at the same time) and color mix of this particular clutch. Isn't she lovely?
Now, for the part that you all have been waiting for…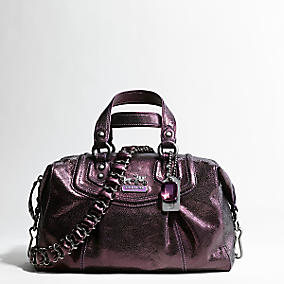 To win the Audrey bag, visit Coach and tell me which bag you would love to have as a holiday gift. Also, please tell me your Coach story (i.e. what you like most about the company; your first introduction to Coach; etc.) along with your comment. I will choose a winner on December 20th at noon after the Coach's Holiday Blog-a-Day promotion ends. Good luck!

Thanks to Coach for providing both the review and giveaway bags for this promotion!