For this week's "What I Learned This Week", I want to share something that I lost sight of for a moment (okay hour) last week. I'll call it "The Lasagna Incident". (If you bear with me for a few paragraphs, you'll have a chance to win a really nice prize at the end.)
Last Sunday (2/22) was Sean's 2nd birthday. We had a small family dinner. One of the dishes that I cooked was lasagna because that's one of the few things that my picky eater will actually eat. At this point, you might be thinking "Why is she writing the minutiae of her life?!" Hold on. I'll get to the point eventually. One of the gifts that Sean received was the adorable blue Skip Hop MATE (a stay-put mat & plate). He loved it…he was playing with the plate and pop-on utensils like it was a toy before dinner time. Fast forward to the after-party clean-up. I was dismayed to see that the mat part of the mate was ruined. I couldn't get the tomato sauce stains off even after soaking it.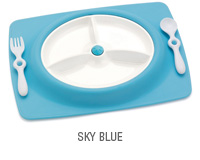 Now, usually I try not to obsess about little things like this, but for some reason the stains were still on my mind when I woke up on Monday. I've worked with Skip-Hop in the past, so I felt compelled to share my disappointment. My initial thought was to contact the last person that I had worked with from their company. Unfortunately, my Yahoo! Small Business Search function hasn't been working the last couple of weeks (I know – they're working on it…) so I couldn't pull up that contact information. Then, because I'm now on Twitter, I looked to see if Skip Hop was on twitter. I tried @skiphop but that was someone totally different. (Since then, I've learned that you can do a more effective search at Twitter Search – duh!)
So, I sent out the following tweet:
"Trying to understand why Skip-Hop's mate (mat and plate) isn't tomato-sauce resistant. Adorable but ruined during first use – lasagna!"
Hindsight is always 20-20. Looking back, I really should have waited until I was able to speak with someone from the company. In real life and online, I try to talk to people, not about them in regards to negative things. If that's not possible/feasible, I try not to use real names/"clues" to identify the person. (You know that whole "do unto others" thing.)
Fortunately, Skip Hop has a great online presence. Somehow they heard about my situation; got in contact with me; assured me that my situation was not the norm and replaced my defective product. How cool is that?!
So, I sent out the following tweet:
"Kudos to @skiphopnyc for being on top of their customer service/quality control! Follow them – they're doing all sorts of special giveaways."

What I've learned (yet again) is that social media is powerful. As such, I need to be very careful how I use it. At the end of the day, there are people behind each brand. Fortunately for me, the Skip Hop people were extremely gracious. They came up with the term "The Lasagna Incident" and even sent me a couple of great gifts along with the replacement MATE for my inconvenience.
That's where the giveaway comes in. Even though they're great products, I don't feel like I should keep the gifts, because I don't love the way I handled the whole thing. No, I'm not giving away my MATE – that was Sean's gift! I am giving away the "inconvenience gifts" though – a Skip Hop SWIPE baby wipes case and a Skip Hop Pronto mini changer.


To enter the giveaway, visit the Skip Hop website and say something nice about one of their products in the "Comments" section below by March 31st. (For an extra entry, follow Skip Hop on Twitter.)

Now, my mea culpa is over and I can move on to the next learning experience…
(To see what others around the web are learning, visit the "What I Learned This Week" carnival.)