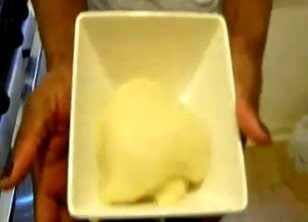 I have mixed thoughts about February being Black History Month in general, but I will take any opportunity to celebrate the important contributions that people from the African diaspora have made in our society. Food and recipes definitely fall in that category, so I will be sharing some of my favorite African, Caribbean and southern "soul food" recipes over the next few weeks.
I'm especially excited about the four African recipes that I will be sharing this week. I originally posted 3 of the 4 recipes back in March of 2011 after a fun, "Cooking with my Friends" session with my Nigerian friend Yemisi. As an update, I'm happy to report that Yemisi will be launching her own authentic African food line to the general public soon. I'll definitely keep you posted!
One of the great things about being a foodie who lives in NYC is that there is such an ethnic diversity of foods…and my friends represent that! When I asked Yemisi if I could come over to see her prepare a traditional African dish, I had no idea that she was going to prepare a feast. She ended up making two meat dishes and two sides. I am starting off with a relatively easy recipe for iyan (a pounded yam recipe) that I previously knew as fufu. I'm sharing a video and the actual recipe that was used. (By the way…that little kid who interrupts us is my son Sean!)
Iyan/Fufu (Pounded Yam) – Western Version
Total Time: 20 Min
Cook Time: 20 Min
Yield: 6 to 8 Servings
Ingredients
-2 ½ Cups of Yam powder mix***Best brand to use is Ado yam
-4 Cups of Boiling Water
Directions
1. In a sauce pan, bring 4 cups of water to a boil over a medium flame. Set aside ½ cup of the boiling water.
2. Slowly pour 2 cups of the yam powder mix into the boiling water while stirring with a rolling pin (a French rolling pin is perfect) while still over a medium flame. Continue to add the remaining yam powder mix until the mixture has a dough-like consistency.
3. Turn off the heat. Keep stirring until the Yam powder mix is fully incorporated. (The desired result is a dough consistency.)
4. Over a low heat, pour the remaining ½ cup of hot water on the dough mixture and let the mixture boil for three minutes.
5. Turn off the heat. Thoroughly stir the mixture until the water is fully incorporated into the dough. Scoop the dough into a bowl and serve immediately.
(This can be served with Egunsi stew, Obe Ata or Ila.)