I skipped Toy Fair this year because I was going through toy overload after the holiday season. (I've recovered though and I will be attending the Time to Play spring showcase next week.) Even though I didn't make it, many companies offered to send me toys to test out. The only offer that I accepted was from Corolle dolls.
I remember seeing the Corolle dolls at a prior toy showcase. I remember the dolls, because I thought that the brown ones were so cute. Although I have two sons, there are many little girls in my life including many nieces and daughters of family friends. Since I think that it is important for little girls to have dolls of all skin tones (including their own!), I agreed to review the Corolle dolls.
I was sent dolls for two different age ranges. The Calin Naima baby doll from the Mon Premier line (for little girls aged 18 months and up) looked just like my first niece did many years ago – a cute little bald-headed chocolate drop. Really – my niece didn't have hair until she was almost 2! (She is now a college graduate and mom herself.) Besides the appearance, I also really like that the body of the doll is soft and snuggable. Both of the Corolle dolls also have a very pleasant scent. (I can't really describe the smell, but I know that I like it!) You can see the Calin Naima doll at the top of this post.
Cecile from the Les Cheries line (for girls ages 3+) was another hit. Two things stood out about this doll: 1. She was dressed oh so fashionably. 2. Her curly 'fro hair. Unlike the typical straight black hair found on most dolls of color, Cecile's hair actually looked like some little Black girls' beautiful hair. Actually, this doll's hair looks like a longer version of my son Michael's hair when he was a baby. No wonder random people constantly asked to touch his hair (?!) Suffice it to say, the little girl that received Cecile loved her. I'm sure that they will have a lot of fun times together.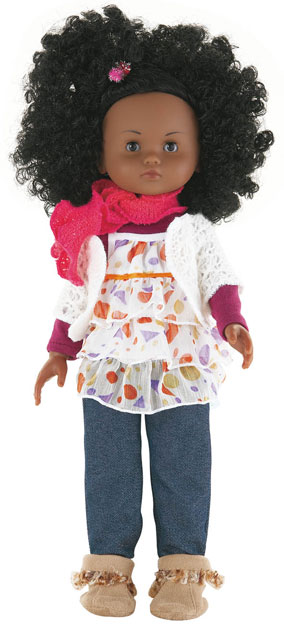 In any event, Corolle dolls are a great option for the little girls in your life. They are award-winning, quality dolls at reasonable prices – a combination that cannot be beat!