On December 30th, I went to a food demo at Café Fiorello featuring the traditional Italian soup, Cotechino and Lenticchie, that is eaten on New Year's Eve for prosperity and good luck. Café Fiorello's executive chef Raffaele Solinas demonstrated how to make the meal and handed out samples to passersby.
I took a friend along with me and both of us enjoyed the soup immensely. Let's just say that black eyed peas are no longer my favorite bean for the New Year. Although the beans were flavorful, it was the sausage that I couldn't get enough of. I told Chef Solinas that finding the correct sausage is always the most challenging part for me in replicating recipes after attending a a special food event. I then asked where he bought his sausage. "I made it," he replied…"I'll send you the recipe." (See that's why I love chefs so much – their generosity of spirit.)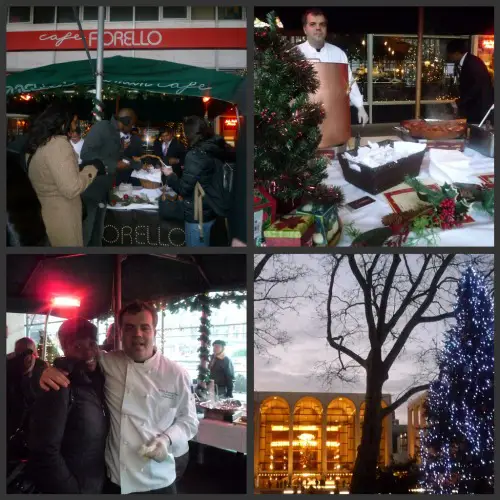 Although I wasn't able to get the recipe in time for the new year, Chef Solinas was kind enough to send it to me. Now I (and you) have it on file for next year! Not only did Chef Solinas share his pork sausage and lentils recipe, but he also shared a little of the history behind the tradition…
The History
Cotechino or Cotechino di Modena, also sometimes spelled cotecchino or coteghino, is a fresh sausage made from pork, fatback, and pork rind, and comes from Modena, Italy, where it has PGI status. Zampone Modena is closely related and also has PGI status.
As Served with Polenta and Lentils:
Cotechino dates back to around 1511 to Gavello, where, whilst besieged, the people had to find a way to preserve meat and use the less tender cuts, so made the cotechino.
Mirandola developed its own specialty enveloped in a hollowed out pig's trotter, named the Zampone.
By the 18th century it had become more popular than the yellowish sausage that had been around at the time, and in the 19th century entered mass production in and around the area.
Cotechino is often served with lentils or cannellini beans with a sauce alongside mashed potatoes, especially around the New Year.
The Recipe:
COTECHINO CON LENTICCHIE RECIPE
(COTECHINO WITH LENTILS)
Recipe by Raffaele Solinas

This is the most traditional dish of all for New Year's Eve supper. The lentils represent the coins soon to befall all who consume the dish within an hour of midnight.
Makes 4 servings
Ingredients
1 celery stalk,1 spanish onion, 1 carrot, 2 or 3 bay leaves(bouillon)
8 ounces dried lentil
2 cloves garlic, peeled
12 fresh sage leaves
¼ cup extra-virgin olive oil
¼ cup red wine vinegar
salt and freshly ground black pepper
1 large (about 2 pounds) cotechino sausage
Directions
1. In a medium saucepan, bring 6 cups of water to a boil, and add 1 tablespoon salt. Add the lentils, garlic, and sage. Cook the lentils at a gentle boil until tender yet still firm (about 20 minutes). Drain and place in a medium bowl.
2. Add the olive oil and vinegar to the lentils and season with salt and pepper. Set aside.
3. Prick the sausage several times with a pin. Place in a large pot of cold water 1 celery stalk, the Spanish onion, 1 carrot and bay leaves (bouillon). Bring to a boil over medium heat. Reduce the heat to a very low boil. Cover the pot and cook for 1 ½ hours. Drain.
4. Spread the marinated lentil on a large serving platter to form a bed for the cotechino. Slice the cotechino into ¼ -inch
(And for the super-cooks, Chef Solinas shared the ingredients for his homemade cotechino…)
Ingredient – Quantity(g) – % of Meat+Fat+Skin
Pork shoulder meat – 1645 – 35
Pork belly (about 60/40 fat/lean) – 1645 – 35
Pork Skin (fatless) – 1362 – 29
Salt – 82 – 1.7
Cure #1 – 7 – 0.15
Dextrose – 18.4 – 0.4
Coriander powder – 1.7 – 0.037
Nutmeg – 0.5g – 0.011
Clove – 1 – 0.022
Mace – 0.5 – 0.011
Cinnamon – 1 – 0.022
Cayenne – 1.4 – 0.03
Black pepper (cracked large) – 6 – 0.129
White pepper (ground fine) – 6 – 0.129
Now, I see why people refer to cooking as a science. Those are some precise measurements. Give me a little while and I will be able to figure out how to make my own sausage too! Meanwhile, I'm going to have to go back to Café Fiorello to get my authentic Italian cravings satisfied!
Café Fiorello
1900 Broadway (between 63rd and 64th Street)
New York, NY 10023
www.cafefiorello.com
I know that the New Year has come and gone for this year, but did you eat anything traditional on January 1st? If so, what was it?