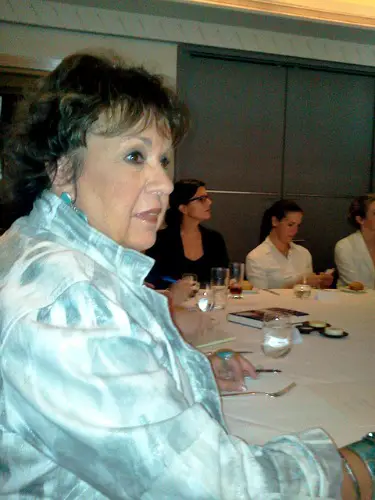 Debbie Phelps
At the end of June, I was invited to lunch with Debbie Phelps, her daughter Hilary and the
Century Council
(a non-profit that is focused on fighting drunk driving and underage drinking) at
Eleven Madison Park Restaurant
. Many of you may know the Phelps name because of Debbie's son Michael, the gold medal Olympic swimmer. However, I was more impressed that Debbie Phelps is an educator and author. (At the end of this post, I'll share how one Foodie City Mom reader can win a copy of her book
A Mother for All Seasons
.) Debbie, who has been a teacher and school administrator for more than 30 years, is currently working with The Century Council to help educate parents and kids about the dangers of underage drinking.
At the lunch, Debbie and her daughter Hilary Phelps spoke about the effect of parental influence on kids making positive decisions. It was helpful to hear their different perspectives – one being the child and the other being the parent. I admit that I don't follow "sensational" news so the irony of Debbie talking about the risks of underage drinking was initially lost on me. (I didn't know that Michael Phelps was arrested and plead guilty to driving under the influence of alcohol when he was 19.) However, I never "judge" parents based on the uncharacteristic actions of their kids. As Debbie said, "We all fall on our faces." Personally, I think that we do the best that we can as parents but kids are individuals and make their own decisions. Overall, I walked away impressed with Debbie and her devotion to her kids. "Stop and slow down when parenting," she said as she encouraged us to capture the moments with our kids – to really slow down and take time to be with them. I totally agree with her statement: "It takes a lot of time to influence/impact kids." Parenting is repetitive!
With Century Council programs like Ask, Listen, Learn: Kids and Alcohol Don't Mix, an education program focused on empowering kids to say "YES" to a healthy lifestyle and "NO" to underage drinking, it was interesting to me that The Century Council is funded by a group of the nation's distillers. I think that they do great work though and alcohol (in and of itself) is not a bad thing…it's the abuse of it that must be curbed. I guess that I am just easily shocked because I didn't realize that the average age of kids' first drinks are age 11. (That's just 3 years away for Michael!) I also didn't realize that parents were the #1 provider for obtaining alcohol for underage students. I guess that I shouldn't have been surprised about that with so many "modern" parents being more concerned about being their kids' friends before being their parents first! In any event, modeling is essential, so I will be even more conscious of how I talk about drinking with my kids. Honestly, drinking at home isn't really something that my kids see. Reggie doesn't drink at all and I only drink (not to excess!) at work or "adult-only" outings. That is why we will have to be especially deliberate to even think about bringing up these types of conversations.
Have you started speaking with your kids about alcohol? If so, what type of conversations do you have? Leave an answer to one (or both) of those questions in the "Comments" section below to enter to win a signed copy of Debbie's book A Mother for All Seasons
. I will pick a winner next Wednesday (July 11th) at noon. It's a really great read. Debbie has tons of personality. Good luck!
This is a sponsored conversation written by me on behalf of The Motherhood. As always, the takeaways are all mine!