The full title to Dr. Barry Sears' new book says it all: Toxic Fat: When Good Fat Turns Bad
. When my friend Beth invited me to a lunch and roundtable discussion with Dr. Barry Sears last week, I thought, "Great, I can pick up some tips from the man who wrote The Zone
."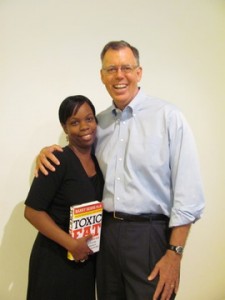 Several of my friends have tried the Zone diet in the past with great results. I remember one particular guy friend. He had such an extreme personality. I think that all he ate was apples and tuna during his Zone stint! Personally, I have never been a big dieter. In the past, I could just work out and eat whatever I wanted. Unfortunately, those days are gone. (Boo! Hoo! Oh well, it was a good 35/36 year run. I can't complain.) Anyway, I'll share what I found helpful from the discussion and at the end, one of you will have the chance to win the new book.
-I like that Dr. Sear's approach really isn't about dieting/being thin. It's more about health. In this particular book, the research is focused on ways to help treat and reverse silent inflammation, the leading cause behind cardiovascular disease and Type-2 diabetes.
-An increase in refined carbohydrates and a dramatic increase in omega-6 fatty acids can be "toxic" to our bodies. (At this point, I was thinking, "I just can't keep up! Everyone knows that you should limit refined carbs, but I thought that omega-6 oils were the ones that we were supposed to be using!") It turns out that omega-3 acids (like cod liver oil) are now being touted as the "good" ones.
-The "grandma" diet is still the best. I was laughing to myself and wondering whose grandma he was talking about as Dr. Sears shared that the foundation of his food system is similar to what grandmas have been telling us throughout the ages. Well someone's grandma was right when they advocated small meals, hand-sized proteins and eating all of your vegetables. (Besides the "eating all of your vegetables" part, that wasn't my Southern grandma's practice!)
-If you can't change what people love to eat, then reconstruct their favorite foods. That is what Dr. Sears has done with his new line of food that he created to look and taste the same as the originals (rice, pasta, pizza, pastries). They just have different hormonal responses because protein is embedded in the flour. I tried the pizza at the lunch and (to my pleasant surprise) it was actually really good!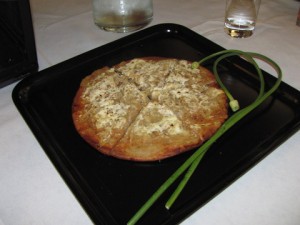 I was given some of the food to try out at home. I don't like a lot of carbs unless I'm eating out, but my husband and kids love them. My sons ate the bread and sweet treats. The thing that I'm most looking forward to trying though is the pasta…especially for Sean. He is such a picky eater and he doesn't like meat a lot. So, I'm hoping that the protein enriched pasta with vegetables and sauce will give him a well-balanced meal that he will actually eat! While I don't think that we would be the best fit for the daily pre-packaged food plan, there were several products (pastas, breads, treats) that would mix into my family's food plan. You can learn more about the Zone line of food and lifestlye at zonediet.com.
At the end of the event, we received a copy of Toxic Fat. I read the book and took note of the things that I would like to change. I really liked how it gave you the option to make changes at different "prescription" levels from 15 seconds/day (minimum) to 3 hours/day. The "Type-A" part of me was like, "Yeah, I'll do the 3 hour one…the one that includes 20 minutes of sitting still/stress reduction!" Then, I had a reality check. Honestly, if I can do the 30 minute/day change until after camp, that would be a HUGE accomplishment.
If you would like to win a copy of Toxic Fat: When Good Fat Turns Bad, please let me know how much time per day you (realistically) think that you can devote to reverse "toxic fat syndrome": 15 seconds, 5 minutes, thirty minutes, or three hours in the "Comments" section below by August 15th. Remember, there are no wrong answers. Every little bit helps 🙂
Disclosure: Thanks to Dr. Sears for the lunch and the Zone meals that my family sampled and thanks to Beth for the invite and photos!