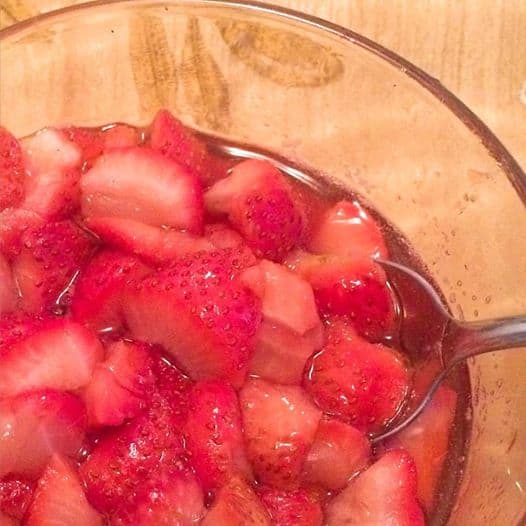 The reason that I folded my Foodie City Mom food blog back into Mom in the City was because I ran out of new recipes that my family and friends wanted to eat. (I have so many recipes that I'm currently in the process of writing a Southern food themed eBook.) Meanwhile, I get excited whenever I receive any new food requests. That is why I'm happy to share this easy strawberry topping recipe with you.
A friend and her mom (who was visiting from out of town) came over to our home for a small brunch while my guys were at school last week. When I asked my friend what her mom would like, she mentioned pancakes with strawberries and bacon. Since strawberries are in season, I was able to pick up a container of sweet, juicy ones at my local market. I did a quick search on Google for a strawberry topping recipe and the recipe on Tori Avey's site seemed the most simple.
I thought that I had the additional ingredients for the recipe at home, but I was wrong. I must have thrown out my last package of the missing cornstarch ingredient because I don't really use it that much in my cooking. I did a little improvising because I didn't have time to go back to the store and the strawberry topping came out great anyway. It was so good that my kids wanted the rest of it over vanilla ice cream later that night.  Here's the final recipe that I used:
Strawberry Topping Recipe
The Easiest Strawberry Topping Recipe to Make
Ingredients
2 cups chopped strawberries (preferably fresh)
1/3 cup sugar
1/3 cup water
1 tsp vanilla
Instructions
Put strawberries and sugar into a small saucepan. Add 1/3 cup of water to the saucepan and stir the strawberries, sugar and water together to blend.
Heat the mixture over medium-high heat until it starts to boil.
Stir the mixture and then reduce the heat to medium before stirring the vanilla into the mixture.
Cook the strawberry mixture over medium heat for 3-4 more minutes, stirring frequently.
Remove the saucepan from heat.
In any event, this strawberry topping recipe works well for a variety of dishes. It's the perfect covering for pancakes, waffles and crepes in the morning. Dessert-wise, it would make a great addition to cheesecakes, pound cakes or even vanilla ice cream. Enjoy!