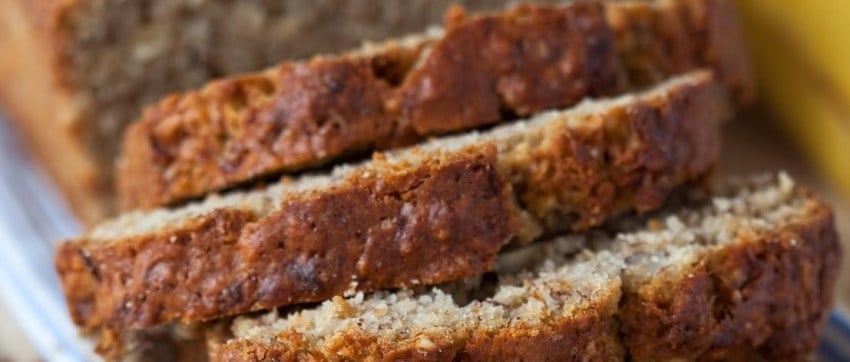 Earlier this week, I watched as my friend Vera and her husband Bill lead an online Cooking With Loved Ones class. (You can read the highlights over at TheMotherhood.) As everyone discussed having loved ones in the kitchen, it made me think of my husband Reggie. While I am the primary cook at our home, Reggie has a few dishes that are family favorites.
He makes an especially great banana bread that is flavorful and moist. In fact, whenever he shares it with family and/or friends, someone always asks him to make them their own batch! A former co-worker gave him the recipe a long time ago. Since he can't remember her name, I just call it "Easy Banana Bread"…because in addition to being delicious, it is super easy to make.
Easy Banana Bread Recipe
Makes 1 loaf
Ingredients:
-1 stick of unsalted butter (room temperature)
-1 cup of sugar
-2 eggs
-1 1/2 cups unbleached flour
-1 teaspoon of baking soda
-1 teaspoon of salt
-1 cup of mashed (very ripe) bananas
-1/2 cup of sour cream
-1 teaspoon of vanilla extract
Directions:
1. Preheat oven to 350 degrees. *Butter 9x5x3″ bread pan. (*"Butter" simply means to place a light coating of butter on the bottom and sides of the pan – so that the bread won't stick.)
2. In a bowl, cream together butter and sugar with an electric mixer until it is light and fluffy.
3. Add the eggs to the butter and sugar mixture and beat all three ingredients together well.
4. In a separate bowl, sift the dry ingredients (flour, baking soda and salt). Combine them with the mixture in the other bowl and blend everything well.
5. Add the mashed bananas, sour cream and vanilla to the bowl. Stir everything together well.
6. Pour everything into the bread pan and let it bake uncovered for one hour.
That's it. After the hour is up, take the pan out of the oven and let it cool off. (When the bread is still a little warm, it tastes especially great with a dollop of whipped cream or a scoop of vanilla ice cream on top.) Enjoy!
Does your significant other have a special dish that you love for them to make?
{Photo image purchased from depositphotos.com}
Related Post: Baking with Michael