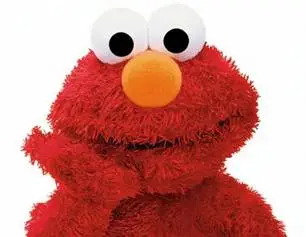 Sean is in love with Elmo at the moment, so he was beyond thrilled when we were invited to a party at Sesame Workshop to celebrate Elmo's birthday. It's interesting because Sean will be five this month. By this age, Michael's infatuation with Elmo was on the decline. I think that the difference is the second child syndrome. Sean has grown up watching the shows that his older brother watches, so he only recently started watching Sesame Street. Suffice it to say, he is making up for lost time! He was such a happy little boy on Friday, when the party took place.
Before the party, we had been sent a review copy of Elmo Worlds: Elmos Favorite Things
 DVD. It will be in stores today (2/7), but we received a sneak peek. The first thing that I noticed is that the DVD was 2 hours and 15 minutes long. I'm not a big fan of "DVDs as babysitters" on a regular basis, but they definitely serve that purpose in a pinch…and this is a great one for you to have in your arsenal. Sean was so cute while he was watching it. He kept saying, "Elmo and I have so much in common. We're like twins. We just don't look alike." He was saying that because the DVD is a series of clips about things that Elmo loves…many (dinosaurs, building things, etc.) of which Sean also happens to enjoy. "We like a lot of the same things." "He was so cute when he was a baby with those big eyes. It was like Puss in Boots!" rounded out Sean's commentary.
We were instructed not to bring Elmo any presents unless it was something that the kids made, so Sean spent Friday morning drawing Elmo a dinosaur. 'He likes dinosaurs," he explained to me…as if I hadn't watched the DVD with him. Anyway, Sean was so excited to meet Elmo that he was beside himself.  At the party, he kept asking "Where' Elmo" until the birthday puppet made his appearance. I had no idea that Kevin Clash, the man behind Elmo was actually going to be at the party too, so of course I had to get them together on video.
In any event, we had a blast. Sean was beaming for the rest of the weekend. On the way out, we received a gift bag. Sean already has a couple of Elmo dolls, so he doesn't need another one. He insisted on keeping a few things in the bag, but he wanted to give the rest to one of you.
Here's what will be in the giveaway bundle:



–Elmo Worlds: Elmos Favorite Things
DVD
–PLAYSKOOL Sesame Baby Sniffles Elmo
-Fizzy Tub Colors (9 tablets)
The winner will also receive the following iTunes app codes that expire on March 1st:
-The Firehouse
-The Playground
-Elmo's Monster Maker (for the iPad)
To enter to win, simply tell me your favorite thing about Sesame Street and/or Elmo in the "Comments" section by February 15th at noon. I will choose a winner then. Good luck!