Last Thursday, my family had an "End of Summer Wii Party" at our home for 20+ of our friends. It was a blast!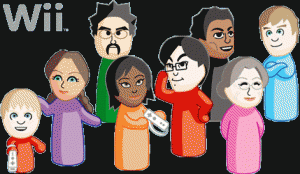 We had two separate Wii units set up – one in the living room (for the more active games) and one in Michael's room. We also set up a portable DVD player in our bedroom for the kids to watch videos while we played.
What did I learn from the party?
-You can never have too many Hebrew National Franks in a Blanket or Tyson wings as hordoeurves.
-Few things beat a great hula hoop competition – for girls and guys. (Wii Fit).
-There's a rocker waiting to get out of most of us. (Guitar Hero)
-My brain isn't that big. (So far, I can't get past a C+ in Big Brain Academy.)
-Anther great game that my husband and son have especially been enjoying lately is MLB® Power Pros 2008. Rated "E for Everyone", the figures in this game are so cute and funny and it's easy for both kids and adults to play. There are over ten different game modes including Practice, Exhibition, League and Home Run Challenge. What's also neat is that players can be either the baseball player or the manager.

In any event, everyone seemed to have a blast. This picture of Sean sums up the overall feel of the party (happy rockers!):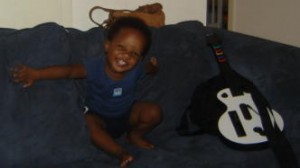 (On a side gaming note, Nintendo is hosting a free "Sneak Peek" at Mystery Case Files™: MillionHeir™ for Nintendo DS this Saturday at Nintendo World for families. You can find the full details here.)