8/21 update: The Epic
movie is now available on Blu-ray and DVD. If you want to purchase it, you can order it through my Amazon.com
affiliate partner!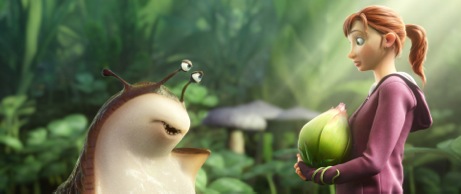 This post is brought to you by my friend, neighbor and writing colleague Nancy Horn who covered the Epic screening and press junket on behalf of Mom in the City. Thanks Nancy!

The Epic movie opens today (May 24th). Last Saturday, I had a first hand look at the film before it opened, and walked the red carpet. It was so exciting! I also participated in a sit down with the director, Chris Wedge (ICE AGE), and cast members, Colin Farrell, Amanda Seyfried, Chris O' Down and Aziz Ansari. I will share about the film in this post and more about the Q & A session at another time.
First, check out the Epic movie trailer:

Epic stars Beyoncé Knowles (who does a fantastic job) as Queen Tara, Colin Farrell as Ronin, Josh Hutcherson (Hunger Games) as Nod, Amanda Seyfried as M.K, Aziz Ansari as Mub, Chris O'Dowd as Grub, Pitbull as Bufo, Christoph Waltz as Mandrake, Jason Sudeikis as Professor Bomba (M.K.'s Dad) and Steven Tyler as Nim Galuu. The movie revolves around a young girl (Amanda Seyfried) who discovers a fantastical world right beneath her feet after she goes to live with her father.
In this alternate world, the Leafmen, who are headed up by Colin Farrell's Ronin, protect Queen Tara (Beyoncé Knowles) and their life in the forest. Their world is threatened by the Boggans, who wish to destroy it. The evil Mandrake (Christoph Waltz) heads up the Boggans. The Leafmen, the heroes in the story, are inspired by William Joyce's book The Leaf Men and the Brave Good Bugs. William Joyce also wrote Epic's story and screenplay along with serving as an executive producer and production designer.
There were many things that I enjoyed about the movie. There was enough action for both boys and girls (as well as their parents) to like the film. While there were a few scary parts, I think that children over the ages of 6 or 7 will be fine watching it. I took my 5 1/2 year old daughter with me to the screening and I kept checking in with her to make sure that she knew that the movie was make believe during the scarier parts. Beyoncé, as Queen Tara, was riveting and her friendship with Colin Farrell (Ronin) was touching. Meanwhile, Aziz Ansari and Chris O' Dowd served as the comic relief. (I would love to see these guys together more. Some short features with those two would be hysterical.) The 3D CG animation was also breathtaking. Just make sure that your child is comfortable with and able to wear 3D glasses. If not, they will miss the beauty of the movie.
I also appreciated the themes of the Epic movie. Good versus evil was one main theme. One Epic movie quote that really resonated was "many leaves, one tree". It means that while we are all individuals, we are also part of a larger community. The saying "many leaves, one tree" is repeated throughout the movie and is very important as unlikely allies pull together to help save their world.
I highly recommend that you see Epic. Parents and children will all enjoy it…and take away some positive messages too!
{Thanks to 20th Century Fox for inviting Mom in the City to the EPIC premiere and press junket.}