This marks the beginning of a weekly post series where I will highlight some of my favorite NYC restaurants. (I usually dine out once a week and my husband cooks once a week so that I don't get burnt out!)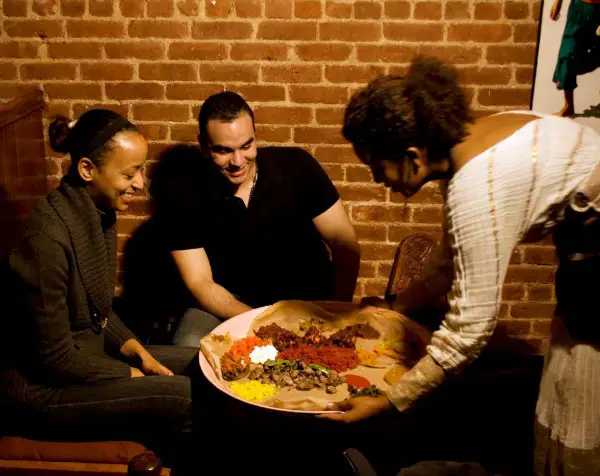 December was a fun month filled with dining out with several friends. My friend Liz had suggested dining out an Ethiopian restaurant, so eight of us went to Queen of Sheba in Hell's Kitchen. You can tell that an ethnic restaurant is good when there are a lot of people from that particular ethnicity actually eating there…and there were several Ethiopians eating at Queen of Sheba!
Ethiopian food is not my favorite type of food but I still enjoyed everything that I ate. If you are unsure regarding what to order, I recommend the combination platter. A couple of us bought the vegetarian one and one friend picked the meat one. The chosen dishes were served on top of injera, an Ethiopian flat bread staple. Everything was seasoned well but not too spicy. FYI: Ethiopian food can tend to be on the spicy side. Our server was warm and helpful when we asked her input regarding menu choices. The restaurant isn't especially spacious (a common NYC challenge), but our group of eight was comfortably seated. We all enjoyed ourselves and would recommend it to our friends.
In any event, Ethiopian food is a great healthy dining out option. The dishes are simple and served in small portions, which make the combination platters especially great for sharing. There are also several options for vegetarians on the menu. Some Ethiopian restaurants even have several gluten-free options.
Have you ever tried Ethiopian food? If so, did you enjoy it? Do you have any favorite NYC Ethiopian restaurants that you would recommend?

Other highly recommended NYC Ethiopian restaurant options:
1. Awash (Uptown, Downtown & Brooklyn locations)
2. Ghenet Ethiopian Restaurant (Brooklyn)
*Ghenet offers gluten-free injera. You just need to call in a day before you plan on visiting.
3. Zoma (Harlem)
{Post image courtesy of Queen of Sheba. I was not compensated in any way for this post. I don't have an affiliation with any of these restaurants.}