Congrats to the winner Christine!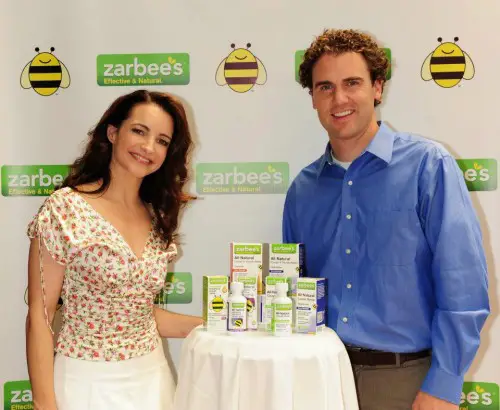 During the last few weeks, the 2012 fall allergy season has hit my home with a vengeance. It started off with my oldest son Michael starting to sniffle and cough. Then last week, allergies began a domino effect on my youngest son Sean. Once his allergies kick into gear, asthma incidents tend to follow. In any event, he has been coughing his little head off (not literally). According to weather.com's article "Warning: Wretched Fall Allergy Season Ahead", we just need to brace ourselves, because this year's fall allergy season is anticipated to be worse and to last longer than in the recent past. Thankfully, I have Zarbee's natural cough relief aid to help with the (non-prescription) cough symptoms this year.
Back in August, I attended a Zarbee's event that I wrote a "Kristin Davis, Zarbee's and Friends" post about over on Foodie City Mom. I was delighted about their natural cough syrup that was developed by pediatrician, Zak Zarbock, M.D. that can be used for kids starting at 12 months or 2 years of age for the nighttime version. After the event, I was sent a Zarbee's care package with 8 cough remedy products as well as a cup and spoon (to use for the cough and throat hot drinks). Best of all, they will send the same care package to one of you! To enter to win the Zarbee's care package, simply let me know if you prefer cough syrup or cough and throat hot drinks to relieve your family's coughs in the "Comments" section below. I will pick a winner on Wednesday (October 3rd) at noon. Good luck!
Meanwhile, I wanted to share some helpful information that Dr. Zarbock's office sent over…
"Nearly 1 in 5 Americans suffer from allergies and after this year's unusually mild winter, the dreaded allergy season arrived extra early, resulting in bothersome coughs and colds in allergy sufferers across the country. Although a cough related to allergies may be relatively harmless, it can be very disruptive, causing sore throat, interrupted sleep and in some cases, trouble breathing. How will you know if you have allergies or if you are getting sick? And what are the proper precautions when you start to experience symptoms?
Dr. Zak Zarbock, creator of Zarbee's, the #1 all natural, safe and effective cough alternative, shares his top tips for identifying and treating coughs due to seasonal allergies:
• Know your symptoms.
Allergies can have similar symptoms to the colds and coughs caused by viral or bacterial infections. Symptoms of allergies typically include clear runny or stuffy nose, red, itchy eyes, sore throat and cough from drainage behind the nose. Asthma may also be triggered by allergies, leading to a worsening cough, wheezing, and often breathing difficulty. Symptoms of an infection may also include runny nose, congestion and cough, but unlike allergies, may be associated with fever, green or yellow nasal drainage, and general achiness.
• Keep an eye on the calendar.
Coughs that begin on or around the same time every year are often caused by allergies. Seasonal allergy sufferers commonly react to pollen counts that are high from certain trees, grasses and weeds. However in many instances, allergies may be a year-round affair for those who react to insects, dust mites, animals or mold spores.
• A little prevention goes a long way
Reduce exposure to allergy triggers. Simple things like showering or washing the hair before bed will help rinse pollen from the skin and hair. Keep car and house windows closed during peak seasons. Consider a dust filter mask when outdoors in high pollen conditions. Vacuum carpets and wash sheets and pillow cases on a regular basis. And remember to frequently change furnace and air conditioning filters as this may be an important line of defense.
• Treat SAFELY and effectively
Choose all natural remedies to treat coughs related to allergies. Keep airways moist and clear of mucus with natural saline sprays and rinses. Use antioxidant-rich honeys, like those found in Zarbee's Cough Syrup, as a proven remedy to calm coughs and soothe and coat sore throats."
If you have any other questions about coughs, you can read Dr. Zarbock's "Clearing Up Cough Confusion" as well as "The Cough Conundrum – Stay Home or Safe to Go Out?". (I found them to be extremely helpful…especially the latter one.)