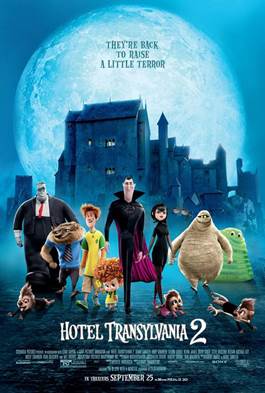 I think that every parent has expectations and dreams for their child. Often times though a parent's dream turns out to be different than their child's reality. For instance, my mom really wanted me to be a lawyer…probably because I debated everything so much. After finishing an internship with a lawyer in high school, I realized that was not the path for me. Although, she was initially disappointed, my mom was loving enough to encourage me to do what I wanted instead. That is what unconditional love is about. That is what I thought about after seeing Hotel Transylvania 2.
Hotel Transylvania 2 Review
Kimberly (Me)
Unconditional love and accepting differences in families were two of the main themes of the movie. It's an especially relevant message for today's society. Immediate and extended families are filled with notable differences (skin colors, religions and such). It can be difficult to understand and accept one another – especially when we have different customs and beliefs. At the end of the day though, family is family. Sometimes (like in the movie) it takes an outward threat in order for families to forget their differences and work together as a cohesive unit. My hope is that since we can see past man-made barriers and cultural differences within our families, we will one day be able to do the same as a society!
Reggie (My husband)
It was a really good follow-up to the first Hotel Transylvania
movie. Highlights: I liked the playful connection between vampires and Batman. The Blob was funny. The interaction between Dracula (the vampire grandfather) and his grandson Dennis was well done. When the humans and monsters worked together at the end was also a high point.
Michael (11)
It was a good movie. It showed that you should like people no matter what instead of trying to make them into someone else. At first, Dracula tried to make Dennis into a vampire because he wanted him to be a vampire so badly. (Dennis' mom Mavis didn't care whether or not Dennis turned out to be human or vampire.) The humans treated the vampires differently/in a stereotypical way too.
Sean (8)
It was a good film overall. It's funny at some points (like when Dracula tried to use a cell phone with his long fingernails) and scary at some points. Most of all, it showed that it doesn't matter who you are – monster or human. Dennis, the grandson, was also so cute.
That's the Hotel Transylvania 2 Review from the Colemans. Hotel Transylvania 2 opens in theaters tomorrow (September 25th). We think that your family will enjoy it.