Father's Day reminds me of how lucky I am. I have a really loving relationship with my Dad (which is great since we went through some rocky years when I was younger). Additionally, I couldn't have asked for a better father-in-law (he is such a solid, responsible man of integrity). Most of all, I am so fortunate that the father to my sons is so wonderful. I could not have asked for a better husband and father.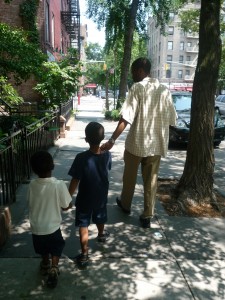 When asked to share what they loved about Reggie over dinner, the boys mainly mentioned that they loved him in connection with food. "He buys great food for us." "He chose Thai food for his Father's Day meal." "He makes me grilled cheese sandwiches." Maybe it's because we were at the dinner table that they were so one-tracked in their answers. With a little prodding from me, they elaborated. They love that their Daddy takes the time to play games (especially video games) with them, that he helps (Michael) with his homework and that he makes time to spend with them even when he's tired. I added that I loved how he was such a great provider – making sure that we all have everything that we need…plus a lot of our "wants". I had to end by sharing that the fact that Reggie makes me happy makes him an especially amazing father. We all know, "If mama is not happy. No one is happy." (The kids got a kick out of that saying and kept repeating it for the rest of the night.)
In any event, we had a great weekend. We spent Saturday over the in-laws house to celebrate Reggie's father. On Sunday, we had a special lunch and dinner of Reggie's choosing. The only gift that he had expressed an interest in was the NBA Dynasty Series: Complete History of the NY Knicks – DVD
, so that is what he received. Although they are rarely a winning team, my husband is a loyal fan. He has loved the Knicks for longer than he has loved me. Overall, I spent the weekend enjoying my guys. (We also added another "guy" to our household over the weekend. I'll write about him in another post though.)
I hope that you enjoyed celebrating this weekend. Did you do anything especially fun for Father's Day?